January 26, 2016
Shower and walk-in shower in waxed concrete
The waxed concrete shower, a touch of luxury in your bathroom
Taking care of yourself in style!
Visit shower in waxed concrete is an essential trend in interior design.
Ideal for adding a touch of luxury to your bathroomthe concrete adapts to the layout of your standard or walk-in shower.
Mineral, therefore natural, and industrial at the same time, the waxed concrete is highly appreciated for its touch smooth and sweet and its palette of colors varied.
Among the different types of coatings tiles, glass, wood, plastic -, the concrete is a popular solution in renovation from bathroomused extensively in thehotels.
A tough, durable material
For over thirty years, the high performance of varnish Marius Aurenti is tried and tested in both public works and the home, guaranteeing waterproofing and ease of maintenance.
Visit waxed concrete Marius Aurenti is clearly at home in bathrooms thanks to its technical qualities (thinness, absence of joints, resistance of varnishes) and perhaps above all to the sensory side or sensual of this naturally warm material.
Receive samples directly at home with our matériauthèque.
Rich colors
Marius Aurenti offers his waxed concrete in 71 colors to match your personal style. decorating style.
The most popular shades include white waxed concrete for a luminous shower, the beige waxed concrete or pastel for a warm atmosphere and the grey or black waxed concrete for a classy, luxurious effect, or the colored concretes (blue, green, red, pink, etc.), for an original, eccentric shower.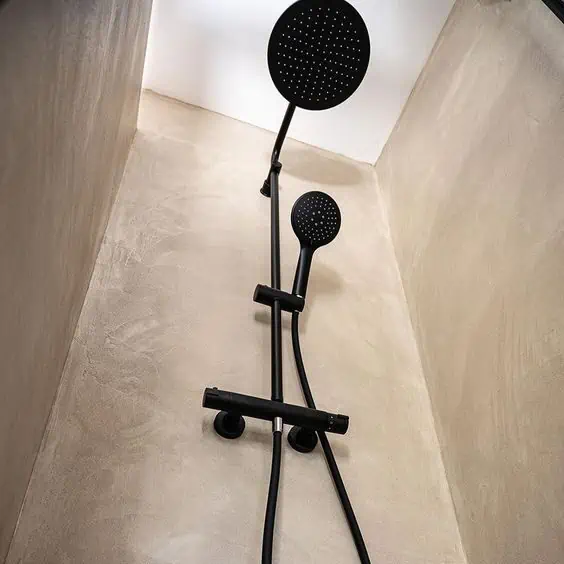 Italian shower in waxed concrete
A trendy shower style
Visit Italian shower in waxed concrete is booming in the design of bathrooms.
This type of showerwith its floor-level opening, is highly prized for its aesthetic appeal and practicality.
Visit waxed concrete for a floor Italian shower is an ideal choice for creating a refined, luxurious relaxation space.
Decoration styles
Your shower in waxed concrete adapts to all decoration stylesWhether industrial, minimalist, Scandinavian or bohemian. It's up to you to choose the one that suits you best to personalize your space.
Waxed concrete shower floor
Visit waxed concrete shower floor is an excellent solution for creating a harmonious, elegant space.
This hard-wearing and beautiful material will be one of your everyday delicacies.
Visit waxed concrete for shower floor can be treated to make it slip-resistant, guaranteeing your safety.
A practical concrete shower floor is easy to maintain and will last for years.
Waxed concrete shower walls
Visit waxed concrete shower walls are an original, sober and classy alternative to traditional tiles, which have become commonplace. They add a contemporary, refined touch to your living space.
Visit waxed concrete on shower wall tiles allows renovate easily a bathroom without undertaking major works.
This solution allows you to rejuvenate your shower without you having to change your entire decoration.
It is possible to shower walls in perfect continuity with bathroom walls in waxed concrete.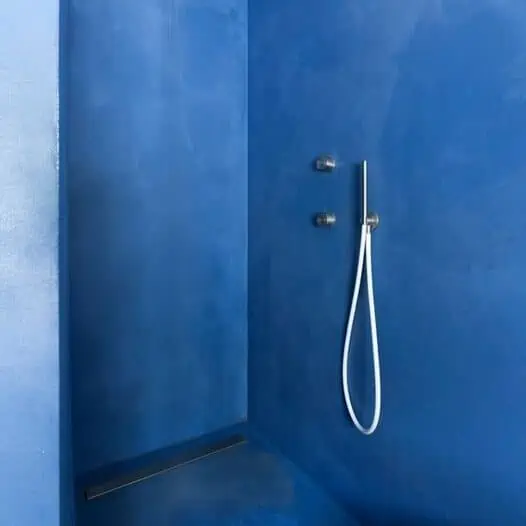 Practical benefits of an Italian-style shower in waxed concrete
Easy access and maintenance
Without level or with a slight elevation above ground level bathroom floorIt provides easy access to the shower and easy maintenance.
Waterproofing
Visit new designit is important to ensure the implementation of a slope for thewater flow (greater than 2%) and to ensure a high sealing type SPEC, SEL or by shower trays for which we recommend the WEDI range.
Floor-wall continuity is ensured by sealing strips and seals and allows waxed concrete to unfold without limits.
The advantages of mineral concrete in an Italian shower are numerous, particularly in terms ofmaintenance and durability.
Colors and finishes
What's more, the variety of colors and finishes available for the Italian shower floor in waxed concrete allows you to personalize your space as you wish.
Price of an Italian shower in waxed concrete
The price of a Italian shower in waxed concrete varies according to the surface to be covered and the type of finish chosen.
Contact a Marius Aurenti consultant free of charge if you have any questions about your construction or renovation project.
Dare to use concrete
Visit shower in waxed concrete is the ideal choice for adding a touch of luxury and elegance to your bathroom. Thanks to its wide range of colors and finishes, this material adapts to any decorating style.
Whether you opt for a Italian showera waxed concrete floor or walls covered with this material, it is essential to prepare the substrate well and ensure optimum waterproofing to guarantee the longevity of your installation: you will probably need a professional craftsman to guarantee the quality of our work. Contact Marius Aurenti who can direct you to a professional near you.
Don't wait any longer to give your bathroom a unique character with a shower in waxed concrete !
Contact a Marius Aurenti consultant free of charge if you have any questions about your construction or renovation project.
How to lay waxed concrete in the shower
Whether for a new build or a renovationThe installation of a waxed concrete shower requires certain key steps to ensure a perfect, long-lasting finish.
New build or renovation
Whether you want renovating a shower in waxed concrete or install waxed concrete in a new space, this solution is suitable for all situations.
Visit waxed concrete for shower renovation allows you to transform the appearance of your bathroom without undertaking any works important.
Laying concrete over shower tiles
Install the micro concrete over existing tiles. shower or walk-in shower is an interesting solution for modernizing your space without demolishing the existing structure. All you have to do isapply the waxed concrete on the existing support, tiles or earthenware - after preparation (removal of damaged tiles, application of a primer). primary…)
Visit renovationthe millimetric waxed concrete Marius Aurenti can cover old tiles with just 2 to 3mm, thanks to a special preparation process.
Ensuring watertightness
Waterproofing is of prime importance in a shower, which is why it's important to prepare the substrate properly before applying the waxed concrete.
Several solutions exist to guaranteewaterproofing under waxed concreteand make watertight the shower waxed concrete using a liquid sealing system.
Liquid sealing system
Visit liquid sealing system (SEL) is a high-performance solution forsealing of your waxed concrete shower.
This product is applied before the waxed concrete is laid, to create a watertight film that resists water infiltration. This system is easy to use and guarantees optimum protection for your waxed concrete. shower area.
wedi panels
Visit wedi panels are another option for ensuring the watertightness of your shower in waxed concrete.
These rigid foam panels coated with a special mortar provide a solid, watertight base for the installation of the waxed concrete on wedi. They're easy to install and can be cut to size to fit your shower space.
By choosing wedi panels for your project, you can be sure of a long-lasting, effective seal.