May 8, 2023
The most beautiful waxed concrete and wood bathrooms
Visit bathrooms are intimate spaces where we like to relax. Why not give them a touch of modernity and elegance by opting for a covering in waxed concrete and wood ? Both materials are very trendy and offer a unique design to your room. Discover our best decorating ideas to create the bathroom of your dreams.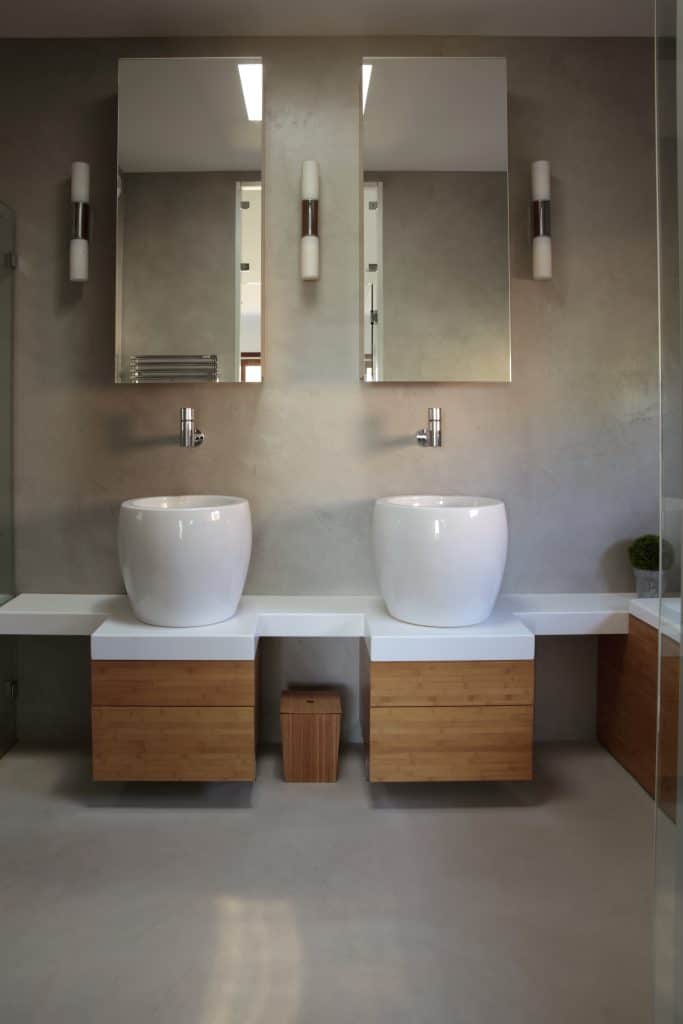 Waxed concrete, a versatile coating
Visit waxed concrete is the coating of choice for bathrooms, because it can be applied to wallsthe soils and even furniture, worktops and credenzas, creating a spectacular visual unity.
It offers a smooth, resistant finish, ideal for surfaces exposed to water. You can also applying waxed concrete over existing tiles - This is often a problem for bathroom renovations - making it an economical solution starting at just a few hundred euros.
Wood, a warm, natural material
Visit wood brings a touch of warmth and naturalness to your bathroom. It can be used for furniturestructural elements such as beamsor decorative elements such as baseboards and the panelling of a wall.
Choose moisture-resistant wood species such as teak or cedar for greater durability, or wood that has been treated and sealed.
Decorative ideas for a waxed concrete and wood bathroom
An Italian shower with wooden slatted walls and concrete floor
For a shower modern and traditional at the same time, opt for an Italian shower with a waxed concrete floor and waterproof wooden walls. The contrast between the two materials creates a striking visual effect.
A waxed concrete vanity top
Replace your vanity unit with a waxed concrete top. Pair it with a natural stone basin and brass fittings for a chic, refined look.
Create recessed niches in your waxed concrete-covered walls to store your toiletries and accessories. Their minimalist design will blend in perfectly with your wooden bathroom.
Concrete walls and wooden furniture
Add a piece of wooden furniture, such as a shelf or hanging cabinet, to store your towels and decorative items. Choose a wood that contrasts with the color of the waxed concrete for a striking visual effect.
For a total waxed concrete and wood look, opt for an island bathtub with a wood cladding. Surround it with concrete walls for a classy, relaxing ambience.
Preferred colors

For a waxed concrete and wood bathroom, opt for natural colors and soothing.
Visit whitethe beigethe light gray are ideal colors for waxed concrete, as they bring luminosity to the room while highlighting the wood. But you can also brighten up the room with the hundreds of shades on the Marius Aurenti color chart.
As for wood, choose light or dark shades according to your preferences and the ambience you wish to create.
In conclusion
Visit waxed concrete and the wood are two very interesting materials for creating a bathroom that's both modern and warm. Their combination offers a hygienic yet authentic style that will appeal to all interior design enthusiasts. Get inspired by our decorating ideas to design the bathroom of your dreams!
Other waxed concrete bathrooms and...
Marius Aurenti waxed concrete color chart