June 24, 2016
Waxed concrete stairs
Waxed concrete staircases: a design effect in architecture and interior design
Staircases play a decisive role in the ambience of a home, and are an essential part of any home's design. strong architectural element. Beyond its functional role, the staircase has the power to decorate and structure a space. With its lines, curves and geometry, a staircase in waxed concrete plays a graphic role unique in interior design.
In a single-family home, the solution of a continuous waxed concrete on treads, risers, even on stringers (edges) and under the staircase, to achieve a visual unity very effective aesthetically. 
Fully lined with waxed concreteThe staircase blends in perfectly with the room in which it is installed.
A treatment in waxed concrete can enhance or soften the presence of a staircase, giving it unity and emphasizing its shape.
Playing on the colorswaxed concrete can mark the contrast with its environment or on the contrary melt with the walls or in continuity with the floor.
Visit colors white pure and black slate are frequently used for this purpose. It's an element where color can express itself even in strong tones.
Visit waxed concrete Marius Aurenti can be applied to treads, risers, stringers and under the staircase.
It is proposed in a rich color palettewhich can be used on steps and floors as well as walls, indoors and out.
Advantages of waxed concrete stairs
Choice of colors
Marius Aurenti waxed concrete offers a wide choice of colors (over 71) and the possibility of chromatic research to create your own customized color.
The chosen color can either contrast with the rest of the room's decor to highlight the work, or help it blend in with a waxed concrete floor or a wall concrete to enlarge the space.
Monobloc unit
Waxed concrete can be used to cover not only the treads, but also the stringers and undersides, for a particularly attractive, one-piece unit.
Pleasant to the touch
Waxed concrete is particularly pleasant to bare feet and ensures good grip.
Waxed concrete is a seamless, flat surface that's easy to clean.
Easy to maintain
Waxed concrete is a seamless, flat surface that's easy to clean.
Building a new waxed concrete staircase
Installing waxed concrete on this type of structure requires a special training Marius Aurenti's craftsmen have been training in our training center for over 25 years.
 Technical points such as the management of stair nosings and incoming and outgoing edges on waxed concrete are crucial to the aesthetic success of these projects.
Professional application tools have also been tested and are recommended to facilitate the installation of MA's waxed concrete.
Creating a concrete staircase base
In new construction, the waxed concrete staircase is designed on a base ofconcrete staircaseThe staircase is built with a formwork by a masonry contractor. The formwork determines the shape of the staircase, and the right proportions of concrete ensure that the structure will stand the test of time.
When planning the construction of a new staircase with a masonry company, if you choose to create it in a concrete monoblock, simply specify that the Marius Aurenti waxed concrete coating will represent 2mm thickness on steps and 1 to 2 mm on the stair stringers and undersides.
Once the staircase has been formworked and poured, and the concrete is fully cured (i.e. with less than 4% of moisture), the waxed concrete can be applied.
Preparing to lay waxed concrete
Sanding
This installation requires more or less intense sanding with a diamond surfacer or sanding with 40-grit grits to perfect the surface, removing spalls, runs and other roughness defects.
Priming porous or epoxy substrates
Since masonry concrete is a porous product, the primer for porous substrates should be applied to prepare the surface.
If it appears necessary to reinforce the solidity of the steps, or to compensate for problems of micro-cracking in the concrete, a preparation on the steps using the EPX2 sandblasted epoxy resin can be a good solution.
Epoxy resin can also be used to bond stair nosings in the form of metal profiles, in brass, for example, or in wood, to create a contrast in materials. By default, this preparation is not necessary if the masonry is correctly executed.
Applying waxed concrete to stairs
The waxed concrete is applied more thickly to the faces and corners of the steps, which have been previously rounded by sanding, to avoid injuries caused by sharp edges.
On stringboards and under surfaces, as these are purely decorative areas, an application of 1mm is sufficient.
Varnish application
The surface of the steps must be protected by varnishin a reinforced way.
In fact, the varnish's resistance to wear and tear makes it long-lasting and easy to maintain. Available in matte, satin or gloss. 
For floors and intensive areas, use a varnish dosage of 300g/m².
On stringers and undersides, protection can be lighter, with lower consumption, i.e. a varnish dosage of 150 to 200g/m².
Managing slipperiness
In order to meet slipperiness standards The surface of a staircase should not be over-sanded, or should be made grainy by applying the final coat with a sponge rub.
Likewise, in some public places podotactile strips are used to facilitate use by the visually impaired.
These materials can be installed upstream if they require anchoring, or by perforation or gluing once the staircase has been built.
Site duration
Completion requires 5 to 6 days' mobilization and drying of the finish (depending on choice).
Contact a Marius Aurenti consultant free of charge if you have any questions about your construction or renovation project.
Building a metal and concrete staircase
Still in the new-build sector, and within the framework of a more minimalist architecture - less cumbersome than a concrete structure that requires the use of many materials - it is possible to envisage other construction methods.
The staircase can be made of metalWhether it's a steel staircase, inlaid on the walls, or suspended from the floor and walls, there are no real limits to the design of a metal staircase.
How to combine a metal staircase with waxed concrete ?
Waxed concrete cannot be laid directly on a metal surface. Expansion of this material may cause the concrete to crack or the substrate to delaminate. Marius Aurenti does not recommend this type of installation.
With Vigorn concrete panels
The other solution, still based on metal frames, consists of using Vigorn panelsWe recommend 14mm or 24mm thicknesses for this type of use.
Visit Vigorn slabsjust like the UHPC slabscan be covered with waxed concrete.
For wooden staircasesIn this case, it's a question of playing on the layout between the wooden structure and the use of Vigorn slabs cut to the dimensions of the steps.
Their thickness of 14 or 24 mm makes them extremely lightweight, while their composition enables them to adapt perfectly to the wood.
(See Vigorn slabs and the Manufacture workshop, which can produce standard slabs as well as made-to-measure items to drawings).
With Smart-Up high-performance cast concrete slabs
However, it is possible to imagine metal frames assembled with slabs cast in Smart-Up high-performance concrete prefabricated.
High-performance fiber-reinforced concrete can be left raw or covered with a layer of Marius Aurenti millimetric waxed concrete.
The advantage of this finish is that it ensures color accuracy and a good sliding properties and market protection.
Creating a concrete staircase outdoors
An outdoor staircase in waxed concrete can be built either on a conventional concrete structure, cast in situ with formwork and reinforcement, or on precast concrete.
In both cases, mechanical surface treatment involves appropriate sanding to even out the surface and anchor the waxed concrete to the concrete structure.
Basically, this involves creating an irregularity and removing any remnants of curing compounds or formwork oils.
The more or less accentuated fineness of the concrete grain on the tread will ensure easy maintenance or, on the contrary, make it easier to grip bare or shod feet on stairs. exterior or stairs from pool.
Once this sanding has been carried out using a diamond disc, or a simple sanding disc if this is sufficient, a porous support treatment will block the bottom.
Next, a conventional two-coat application of 2 mm thickness is applied to optimize the mechanical quality of the waxed concrete. In fact, the intense use of this type of work and its exposure to the elements will require 2 mm of coverage.
As with all staircases, the surface finish is designed to achieve the appropriate license rating for its use, and the protective treatment to facilitate maintenance.
Contact a Marius Aurenti consultant free of charge if you have any questions about your construction or renovation project.
Renovating a staircase with waxed concrete
Renovating a painted concrete staircase
If the staircase is to be renovated if in painted concreteIn the case of a concrete structure, mechanical sanding with a diamond sander is required to remove all the paint, enabling the concrete to adhere properly to the structure itself.
Once the structure has been stripped bare, the work is carried out in the same way as for a new structure.
Renovating a wooden staircase
If the staircase is structured in woodthe steps can be replaced with Vigorn slabs in 14 or 24 mm, cut to the exact size of the steps.
Please note: fields and rounded stair nosings are required.
Renovating a tiled staircase
If the staircase is tiled with wooden, tiled or metal stair nosings, the first thing to do is check the adhesion of the tiles.
Anything that doesn't fit must be removed. This is done by probing, tapping on the tiles to remove those that sound hollow. The void left behind can then be filled with epoxy mortar, or the tiles removed can be perfectly re-adhered.
If the tiles are removed from the stair nosing, check whether the problem is generalized to all stair nosings, or whether they are adherent.
Stair nosings in perfect condition can be retained, but if they are to be removed to create a uniform waxed concrete staircase, the stair nosings must be removed without damaging the existing tiles, then the new stair nosings must be formed and poured.
It is advisable to use a epoxy resin and sand type SQ 40, 60 or 80 depending on the filling required.
The resin's high adhesion capacity makes it ideal for bonding to concrete. It also offers the advantage of efficient application, as polymerization is very rapid. Two days after pouring, you can work directly on the structure, which will be perfectly dry.
In terms of mechanical strength, the resin often exceeds 100 MPa, which is recommended for stair nosings.
Another option is to remove the old stair nosings and replace them with metal strips or L-shaped strips, which are particularly suitable for staircases in public places. At hotelsFor example, repeated impacts with suitcases can damage the edges of the steps.
Stages of production
Waxed concrete staircases in public spaces
The creation of a waxed concrete staircase requires careful consideration of its use, particularly in public places.
The intensive use of these traffic areas places heavy demands on materials that are often exposed to impact.
Stair nosing and safety standards
For this, the stair nosing installation is an operation security essential for this type of project. Properly made, stair nosings will meet the requirements of safety standards at hotelsor in the public spaces.
Marius Aurenti materials integrate the use of specific stair nosings to ensure user safety, while also playing an aesthetic role.
The stair nosings can be pre-installed and fixed using stainless steel, aluminum or even wood profiles, depending on the décor.
The addition of these corner elements not only absorbs impacts, but also ensures perfect tension of the tread edge and an aesthetic contrast of materials.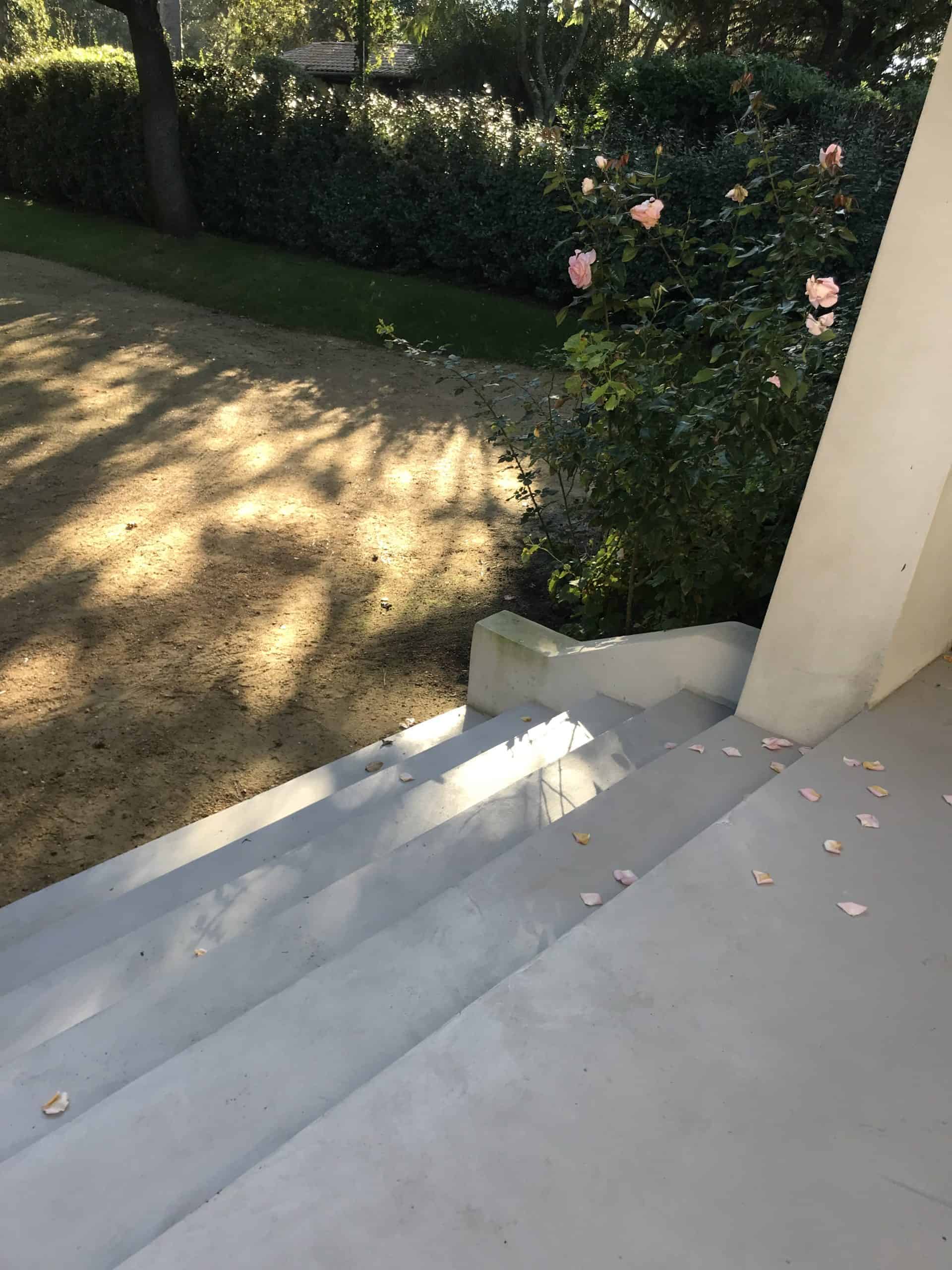 Installation of anti-slip strips
Anti-slip strips, contrasting strips and podotactile studs can be integrated according to specifications. They can be embedded before or after the waxed concrete.
Renovation of public staircases
Note that an existing staircase covered with adhering tiles can be covered without prior removal. Renovating a staircase is therefore quick and generates few inconveniences on premises already in use (dust, noise, waste, etc.).
Maintenance and cleaning
Since the continuity of MA's waxed concrete does not require any special joints, themaintenance and the SITE CLEANING are made easy.
Aesthetics meets and perfectly integrates technical and normative aspects.
Contact a Marius Aurenti consultant free of charge if you have any questions about your construction or renovation project.
Points to watch when building a waxed concrete staircase
The stair nosing must be rounded to avoid sharp edges.
The stair nosing should not be too thin to absorb any impact.
For intensive use in public places, for example, stair nosing is recommended.
Care must be taken to ensure the necessary roughness of the material for good grip in bare feet, with shoes, and even with socks. The same applies to tiled, wooden or even glass staircases.
While it's relatively easy to lay waxed concrete on a staircase, you'll need to organize the site properly to guarantee access to the upper floor during the work. Here's a tip: alternating one step for every two to ensure continued circulation.
71-color micro concrete color chart