Origin
Iris, the mythological messenger of Hera, crosses the sky forming a rainbow with her heel, a true optical miracle of Nature.
Iris is also the eye's window on a world of shapes and colors.
Iris thus became the name of the Marius Aurenti color chart.
With its selection of 210 colors, it is the fruit of 40 years of exchanges with our customers and collaborators: decorators, colorists, craftsmen and architects. It opens the doors of our contemporary living spaces to the talents of Nature. It is the common reference for developing the shades of all our materials. Whether it's concrete, panels stainsthe limethe vegetable-based paintsThe harmony of materials and colors.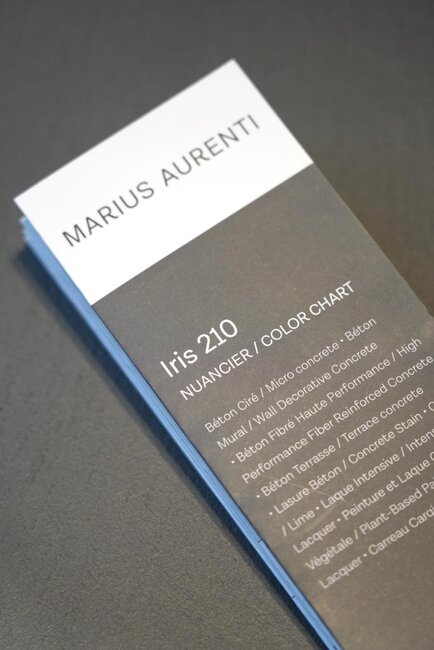 How it works: a name, a number, a letter
Iris is a logical construction of color based on mathematical values that define the position of color in a geometric sphere.
Each color has a name, evocative of nature, materials, animals or places. Naming appeals to our cultures, memories and emotions.
Each color is accompanied by a number and a letter.
The numbers
Numbers are hues, or more precisely, hue angles in the color circle.
They start at 0 (yellow), go through 90 (red), 180 (blue), 270 (green), and finish the circle at 360. The intermediate numbers tell you all about the shades.
A 135 hue like Aubergine 135F, for example, will be made up of equal parts red and blue. It's possible to increase the saturation (concentration) of a hue, and also play with the addition of white and/or black (lightness). So, by varying these 3 parameters (hue, saturation and lightness), we have
access to a multitude of colors.
The letters
The letters A to F express the brightness of the color. The higher the letter, the more light the color absorbs. This is particularly important for facade paintwork and exterior flooring.
Exposed dark colors (after D) can cause discomfort, depending on the geographical area, but can also lead to temperature rises and damage to the structure.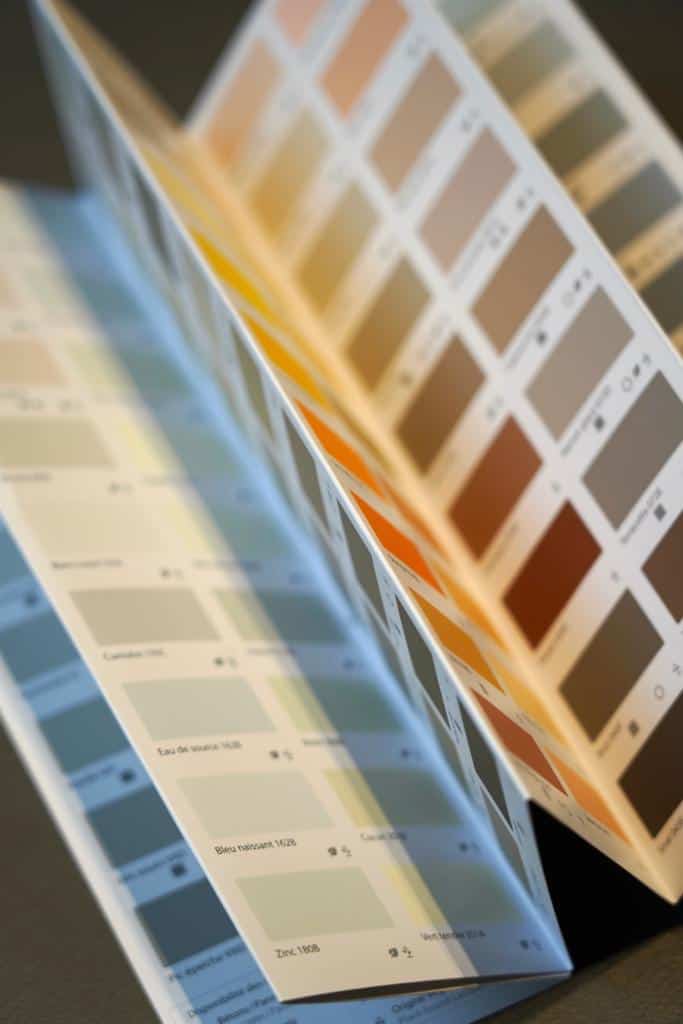 Color chart organization
The color chart starts with achromatics, which are like neutral markers that adapt to all colors.
It's a particularly graphic world, with careful attention to shapes and contours in shades of white, gray and black.
Then come the different pages of faux whites and soft pastels. They create the background color of your space, its tone, its light. They can be used mainly on walls and ceilings, and sometimes on floors too.
Cameo pages come next, in the order of the color wheel. This is the choice of interior harmony, primarily intended for warm, contemporary and timeless homes.
A wide range of broken, greyed, light and dark tones create an unmistakable chic that is perfectly expressed in the mineral and plant-based materials we've been making in France for over 35 years.
Bright colors show that assertive colors can be combined with more sober ones or form strong complementary harmonies, an intention often present in an architectural project.
Color availability
Iris is the ambitious choice of a single color chart for several mineral and plant-based materials rich in natural elements made in France.
Each color is accompanied by a pictogram indicating the material(s) in which it is available.