October 12, 2016
20 photos of colored waxed concrete and outdoor colored concrete
Knowing how to use color is essential in home design.
Color has the power to transform volumes and create atmosphere. It can, for example, delimit spaces or unite them. Choosing and matching color becomes a real art.
Marius Aurenti waxed concretes offer a palette of 71 mineral colors of waxed concretes for home interiors and exteriors.
This palette is part of the IRIS color chart, which includes 146 colors and allows you to combine waxed concrete, varnish and other finishes. lime and painting in subtle harmony.
It is the fruit of over 20 years' experience in coloring and collaborations with leading architects and decorators.
Take inspiration from MA's photo gallery and the various sections of the site to feel the colors that appeal to you.
Then, thanks to MA's color chart and its organized construction of color, you can find harmonies, in opposition or in cameos.
How to choose your waxed concrete color?
Color choices in interior design are often influenced by seasonal trends, which, while tempting, are rarely sustainable.
The dark, broken or muted colors of autumn and winter invite us to rest, to the harmony of a home that warms up to promote well-being with oneself and others, in complete intimacy.
Bright colors are more sunny, opening up the home and life in general to the outside world. The atmosphere is more dynamic, life resurfaces, movement accelerates. 
Whether in the plant or animal world, this seasonal rhythm evokes for us a way of seeing life, our relationship with ourselves and with others.
These dynamic colors evoke childhood. They are often used in public places.
Because they are the result of real choices, bright colors add character to a living space.
A floor made of waxed concrete blue is therefore perfect for a summery, seaside setting.
Pastels are halfway between spring and autumnal softness, and are perfectly suited to the new life of a child's bedroom, for example, or a room where it's nice to spend time reading or relaxing.
Over the past twenty years interior decoration has grown considerably and the range of colors for paint, plaster and waxed concrete has multiplied. Sometimes there are so many colors to choose from, it's hard to decide.
The Marius Aurenti color chart has been designed with professionals to offer you real choices and play on the subtlety of materials and their nuances.
Matte, satin or gloss waxed concrete?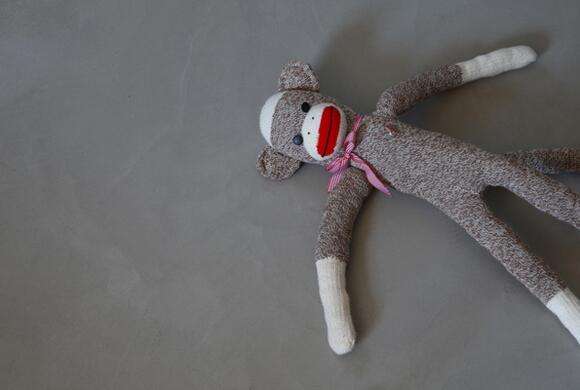 The choice of material also depends on whether it has a matte, satin or gloss finish.
In fact, color is also enhanced by its various finishes.
In matte, satin or gloss, waxed concrete offers a completely different look.
In today's trends, matte and satin are the most common finishes. Matte gives depth and recalls the raw material.
Silk matte or satin matte provides a surface finish. It is also often associated with areas subject to stress (water, kitchen, etc.) to facilitate maintenance.
For a very mineral look and on natural colors such as Everest, Karonga or Grège waxed concrete, the matte finish is the most appropriate.
Gloss finishes are similar to lacquers. They are suitable for red colors, which resemble lacquer on Asian furniture, or for black to accentuate the play of light on the texture of waxed concrete.
Can I change the color of my current waxed concrete?
While the beauty of concrete color is mainly achieved through pigmentation in the mass, it is possible to change the color of an old waxed concrete by applying the mineral woodstain colorful MA's range.
This wood stain mate and mineral has been used for many years on public works to homogenize concrete in poor condition, after form stripping, additions, recesses...
In recent years, the extension of its use in decoration has made it an extraordinarily deep and versatile color solution.
It can be applied to MA's waxed concretes (Fine Smoothing Mortar and Self-Smoothing Mortar), but also to levelling compounds and screeds (if traffic-compatible), and to concrete slabs.
. It can be used, for example, to renovate the floor of a terrace or a bathroom with a raw, uncolored surface, or one that's not colored at all, or with a shade that's too pronounced.
Which color of waxed concrete for a floor?
On the floor, waxed concrete has the advantage of enlarging space thanks to its application without expansion joints.
It can create connections between different rooms in the house: kitchen and living room, bedroom and bathroom, living room and staircase, terrace...
Marius Aurenti waxed concrete gives you a continuous floor, and that's one of its greatest assets.
This link between spaces is accentuated by the choice of waxed concrete colors.
Some interior designers use no more than three colors in any one room. They choose a base color for furniture or floors, a second for walls, and a third for decorative elements.
Others recommend combining 2 colors, one light and one dark, in the same monochrome.
MA's waxed concrete allows you to create these delicate harmonies with, for example, Voile, Poivre Blanc, gris Perle and Flanelle colored waxed concretes.
Where to apply coloured waxed concrete in the kitchen?
In a space like the kitchen, the waxed concrete is at home on floors, walls, credenzas and other surfaces. work plana sinkfurniture. He will dress all these surfaces to give them the best stain and impact resistance thanks to its high-performance protection systems.
Of course, as with any natural, porous material, care must be taken to protect and maintain it, because when it comes to materials, nothing is absolute in terms of resistance.
Waxed concrete blends perfectly with other materials. In a kitchenIt goes well with wood, metal and tiles, all of which can be "integrated" into the space dedicated to waxed concrete. In this way, it can enhance a beautiful mosaic frieze or raw wood shelves.
As part of a renovation project, it can be used to cover a work plan old tiles with new waxed concrete over just 2 mm without changing the existing layout of the elements.
What color of waxed concrete to choose?
Long considered a primarily utilitarian piece, the bathroom has now found its place in the world of interior design.
Water is a source of relaxation, the room a source of well-being and self-care.
Waxed concrete has naturally found its place here, first and foremost from a sensory point of view. The warm, soft feel of MA's waxed concrete is inimitable.
From an aesthetic point of view, it creates continuous, seamless surfaces.
From a technical point of view, in this wet room, colored waxed concrete can be applied to all surfaces: floor, washbasin and vanity top, wall, shower Italian style. It can be applied to new or renovated tiles.
Contact a Marius Aurenti consultant free of charge if you have any questions about your construction or renovation project.
Grey waxed concrete
Gray is very much in vogue in many interior design styles, stealing the show from white. Grey and black, the so-called achromatic colors, are worn in industrial and Zen-style decorations. For structures that will last for decades, they have the advantage of being timeless and timeless. Concrete greys are often the most classic. Silver, Mouse and even darker grays such as Platinium or Aberdeen add elegance and are easy to match with furniture or wall colors, as they remain neutral and very standard.
Zen style
Discreet, well-hidden storage spaces in a sleek, monochrome furniture ensemble, Zen style is one of the most sought-after in contemporary interior design.
This trend is perfectly suited to Marius Aurenti waxed concrete, which offers a broad palette of subtly nuanced greys.
. Choose from light colors such as Perle gray waxed concrete, Souris gray waxed concrete, Voile or Flanelle... or darker, deeper grays such as Aberdeen or Platinium.
Industrial style
In the 90s, the use of former industrial sites enabled concrete to find a place of choice in lofts. Concrete grey, the key color of this decorative style, is available in the Marius Aurenti concrete range.
Concrete, metal, untreated wood, brick... The "indus" style gives pride of place to monochromatic hues and different shades of gray, from light gray waxed concrete shades like Gris Cendré, through medium grays like Argent or Etain, to the darkest colors with Platinium dark gray waxed concrete. 
White waxed concrete
Marius Aurenti's color chart includes Everest white colored concrete. White illuminates and enlarges a room by reflecting light. In the application of waxed concrete, this sensation is reinforced by the uniformity of the material.
Scandinavian style
White waxed concrete blends perfectly with Scandinavian-style interior design. Beauty of line, simplicity, blond wood and pastel shades, the Scandinavian style has been making a strong comeback in interior design over the last fifteen years, seducing with its refined, uncluttered air.
In the Marius Aurenti color chart, all the light shades of waxed concrete are perfect for this style, with a preference for Thyme, Lead grey, Voile for a broken white and Sofia and Grège for beiges.
Another advantage of white matches all other colors range.
Classic and timelessWhite waxed concrete is ideal for living rooms, bathrooms, kitchens and outdoor spaces.
"Is white waxed concrete messy?"
For white waxed concrete, the finishing treatment, wax or varnishplays an essential role, both in terms of protection and aesthetics.
The top coat ensures durability and easy maintenance of your decorative material. MA's high-performance varnishes are extremely stain-resistant, and particularly recommended for intensive use (kitchens, bathrooms...), stores, restaurants).
). So, whatever the color of your decorative plaster, on the floor, table or worktop, if it's protected by a good finish, it won't get dirty.
As with clothing and cars, very light and very dark colors such as white or black are more noticeable, especially in the dust.
MA's therefore recommends intermediate colors and tones for concrete floors in living rooms opening directly onto a garden.
Contact a Marius Aurenti consultant free of charge if you have any questions about your construction or renovation project.
Beige waxed concrete
Shades of beige waxed concrete bring softness and intimacy to a living room. Combined with blond wood furniture, cushions and rugs, this color will create a warm, welcoming atmosphere. serene atmosphere in a bedroom, bathroom or living room. On kitchen walls, cream-colored waxed concrete will bring charm and authenticity. In a bathroom, pebble-colored waxed concrete will express all its minerality. Gray beiges provide the perfect blend of timeless chic and warmth. Sofia and Grège are the perfect representatives of these trends.
Country chic and mountain style
With storage units sometimes absent or embedded in the walls, a stone ambience or lime walls, waxed concrete can be light and discreet or more present with dark beiges or browns (Terre naturelle, Ombre, Gibraltar).
The pretty shades of Nutmeg, Karonga and Capuccino add a touch of originality, while retaining the warmth and sobriety of a country-style interior.
With more antique furniture, often in dark wood, you'll need to modernize the warm colors to avoid a rustic atmosphere.
We can then turn to a light gray waxed concrete, such as Cendré gray or Voile or Perle gray, which carries a little more warmth.
Black waxed concrete
Although black is a neutral color, it's a good idea to use it in small touches only, and enhance it to bring out its cheerfulness.
Used sparingly, black gives intensity and character one-piece.
Marius Aurenti's Ardoise black waxed concrete is ideal for an industrial or Zen-style decor.
In a modern kitchen, it will dress up a worktop or credenza. Pair with Souris grey and Everest white for a monochrome urban style that allows for all manner of fantasy in terms of furnishings and decorative elements.
Black is the sum of all colors, and the one that gives intensity and elegance. It's Chanel's fashion color, and the hue that reveals the material through a precious play with light.
Beyond color, Pierre Soulages turned it into a material in its own right in what he called "l'outre-noir".
The use of Marius Aurenti's black Ardoise in waxed concrete is particularly interesting in this architectural play of vibrating materials.
Black is therefore chosen first and foremost to emphasize an architectural and graphic element such as a staircase, fireplace, kitchen sink, bathroom basin, worktop, tabletop...
Black is then chosen to emphasize the texture and effects of waxed concrete. It plays with the light, highlighting the textures associated with the artisanal application of waxed concrete.

Contact a Marius Aurenti consultant free of charge if you have any questions about your construction or renovation project.
Combined with white, ultramarine blue evokes Greece, the Mediterranean and the light of the South.
It's not a cold blue that dulls the mood, it's an extremely lively blue which majestically occupies the space.
In the Marius Aurenti color chart, blues complement each other: Marne bleue, Stratus, Colette and Oxydium can be combined to create beautiful shades with a vacation feel.
Fans of blue-gray waxed concrete will be seduced by Malachite or Oxydium.
Contact a Marius Aurenti consultant free of charge if you have any questions about your construction or renovation project.
Brown waxed concrete
Matières Marius Aurenti offers a beautiful harmony of colors in brown hues.
. Terracotta, Terre naturelle, Brun and Terre de Sienne waxed concretes bring a feeling of comfort and reassurance.
Combined with another neutral color, brown blends into any decor. It can easily be enhanced with brighter colors such as pink or yellow.
Red waxed concrete
The color red blends well with materials such as blond wood, wicker and formica to create a warm and original atmosphere.
Marius Aurenti's red waxed concrete, applied to walls or floors, comes in beautiful, deep, authentic shades. It plays on natural reds with the warm shades of Hacienda, Riviera or Terre d'Argile.
Whether in a small room or a loft, red will bring cheerfulness and intimacy to your interior.
Reds are also used in oriental and Mediterranean decorations, and the depth of MA's pigments gives lime or concrete a timeless, extremely warm look.
Colored concrete for exteriors and garages
Marius Aurenti colored concrete is not limited to indoor use. It can also be used in exteriorwhere U.V. resistance for long-lasting color.
Your terrace, driveway, outdoor kitchen or garage can be finished in the same shades as the interior of your home.
With its very mineral hues and natural tones, colored concrete blends seamlessly into any outdoor décor. On low walls, floors, pool decks, facades and ponds, it's a natural fit.
Outdoors, a white waxed concrete such as Everest takes on its full dimension in a pool house, enhanced by greenery or brightened by the reflections of a pond. The light reflected perfectly on the wall can even be accentuated by the white glazes on the surface.
In sun-exposed countries, light colors, especially white, are used to reflect the sun and enhance interior comfort.
On low walls, a terrace flooring or in a driveway, natural, mineral shades such as Sofia, Corde or Mélisse will blend into the landscape and develop a beautiful patina without fading.
Contact a Marius Aurenti consultant free of charge if you have any questions about your construction or renovation project.
Marius Aurenti waxed concrete color chart