January 18, 2017
Matt, satin or gloss? Choose the right finish for your waxed concrete
Three waxed concrete finishes
The final look of a waxed concrete depends on the finish chosen. It determines the style, according to the expectations of the application surface.
Visit satin or silky matte gives a pleasant, finished look, especially in bathrooms or rooms with little natural light.
Visit mat is the rawest, most contemporary finish and adds depth.
Visit glossy is aesthetically in favour of distinctive colors such as red or black to give them a more distinctive look. lacquered.
Matt finish
As decorative concrete is naturally matte, a matte finish is preferred to give depth and warmth. It's a contemporary, natural and raw decorating trend.
Satin finish
A satin finish gives a slightly smoother surface appearance. This finish is generally preferred for waxed concrete in bathrooms, to prevent water run-off and facilitate cleaning. It is also ideal for concrete floors indoors.
Gloss finish
Gloss finishes are of little interest from a decorative point of view in the West. It has its place in certain cultures where gloss is de rigueur to enhance the value of materials, and can be used in interior design to emphasize certain furnishing elements. It is also perfectly suited to very distinctive colors such as red or black, to which it gives a lacquered appearance that can be found in Asian furniture in particular.
The entire Marius Aurenti varnish range is constantly tested and improved thanks to European standards and the independent scientific laboratory with which we carry out chemical and mechanical performance tests.
Varnish and wax
In recent years, technical advances generated by research into varnishes have enabled us to improve resistance to chemical and mechanical aggression (scratches), as well as the appearance of the finish. waxed concrete.
Two-component polyurethane varnish
There are several types of varnish. For Marius Aurenti materials, we prefer two-component polyurethane varnishes because they are the most aesthetically and chemically effective, they do not yellow and retain all the beauty of waxed concrete.
The varnish offers a look similar to that of the wax and facilitates day-to-day maintenance of the waxed concrete for the houseThis means that, for domestic use, it will take 5 to 10 years before the product needs replacing.
The performance of varnishes is irreplaceable, especially in damp or stain-prone environments.
It's important to note, however, that even if performance increases, no material is absolute, and it's important to take care when using your concrete!
Visit varnish for waxed concrete Marius Aurenti products preserve the nature of the product, the warmth of the contact and the depth of colors and effects.
Traditionally, satin and gloss varnishes are preferred for their resistance to stains and ease of cleaning.
Microparticles and mattifying agents form mini asperities that prevent reflection of the sun's rays and surface shine.
Wax
As a result, wax is rarely used directly on concrete.
Carnauba wax, for example, is a traditional coating that develops a patina over time.
Wax can be maintained with a spray or polisher.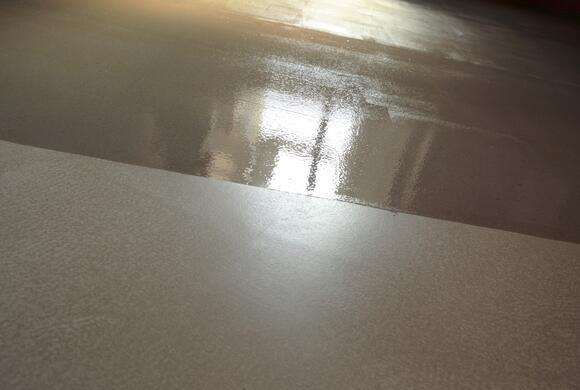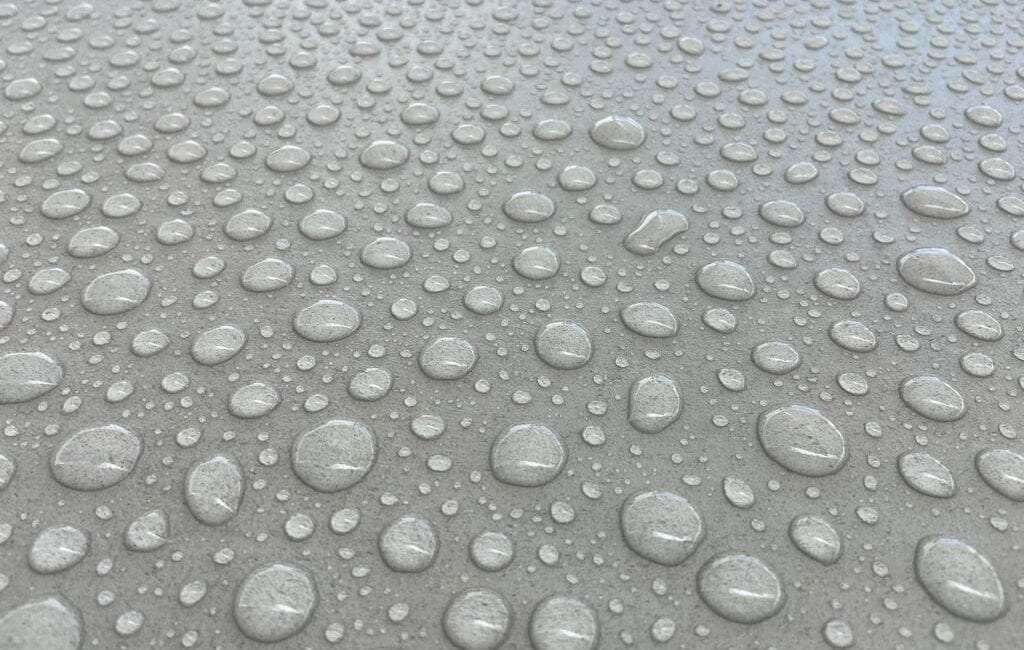 Exterior finishes
On outdoor floors, waxed concrete finishes are satin-finished to allow water run-off and effective oil-repellent treatment.
On the wall, we prefer matt finishes to give full depth to the concrete, but also to coverings such as the lime or mineral paints.
Last but not least, Marius Aurenti develops matt or gloss anti-graffiti treatments for walls.