May 26, 2023
Micro concrete "Classic", 25 years of innovation for your floors, walls, bathrooms and terraces
What is micro concrete?
Millimetric waxed concrete is a warm, timeless, resistant material that has been a favorite in decorating since its invention (a worldwide innovation) by Marius Aurenti in France over 25 years ago.
Composed mainly of French high-strength cements, quartz silica sand from French quarries, and specific additives, this innovative material is applied, generally in two coats, to substrates as diverse as concrete, tiles or plasterboard (only 2mm thick).
Micro concrete offers many advantages. In addition to its durability and resistance to impact, abrasion, stains and humidity, it can be used to create seamless surfaces, giving a modern, uncluttered look.
This millimetric concrete offers great freedom for customization, bringing every decorating project to fruition with performance and elegance.
Visit showrooms and authorized distributors are on hand to provide technical support, demonstrate staging techniques and help you choose the right colors.
Colour charts, catalogs and samples are also available directly on the matériauthèque.
Why choose Marius Aurenti micro concrete?
Marius Aurenti, a French company founded in 1982, is the world pioneer and creator of a concrete formulation that reduces the weight of concrete to a minimum. 2 mm thick only high-quality decorative concrete.
On the strength of 40 years' experience in public buildings, the implementation of this innovative concrete material was accompanied by highly specialized professional training courses for building craftsmen and companies. This approach, which began in the 90s, gave rise to the first network of companies qualified to install micro concrete.
Today, these independent, expert teams are working on thousands of projects in France and around the world (see references). They support your new-build and renovation projects, from bathrooms to large-scale public works.
Choosing Marius Aurenti micro concrete means choosing an established, serious and attentive company whose micro concrete has proven itself on thousands of projects carried out by a network of qualified professionals.
The contact request forms will put you in touch with the professional teams who can meet your technical, time and location requirements.
The 7 advantages of Marius Aurenti micro concrete
2mm thick
Absolute finesse: 25 times thinner than a screed, 50 times thinner than a slab, concrete becomes light, beautiful and resistant.
44MPa
Twice the compressive strength of a screed, with a load-bearing capacity of up to 450 kg/cm².
71 mineral colors
UV-resistant, deep shades thanks to exclusive BLUSH technology. You get long-lasting colors made from mineral pigments with factory-controlled precision.
Without special seals
Extensive surfaces with no special joints... The material passes from room to room, enhancing an enlarged space. Only the joints of the sub-works are necessary and respected.
15-year crack-free warranty
MA's 15-year guarantee against cracking is the result of its exclusive formula and the experience of thousands of completed projects.
A genuine guarantee of a benchmark brand, it is unique on the market for "Expert" qualified craftsmen.
A range of high-resistance varnishes from matt to gloss
MA's varnishes are renowned for their chemical and mechanical resistance. Tested by the CSTB, they are the result of 35 years' experience in protecting public works: subways, high schools, monuments... Get protection that's adapted to your needs, private or professional, and easy to maintain.
Finishes: matte, silk matte, satin and gloss.
Smooth to non-slip textures
Whether you're looking for a very soft, minimalist effect or a rough, industrial, distressed application, the product ranges and finishes allow you to play with decorative effects and textures, from the smooth grain of a worktop to a slip-resistant surface rated PN24 and PC20.
71-color concrete color chart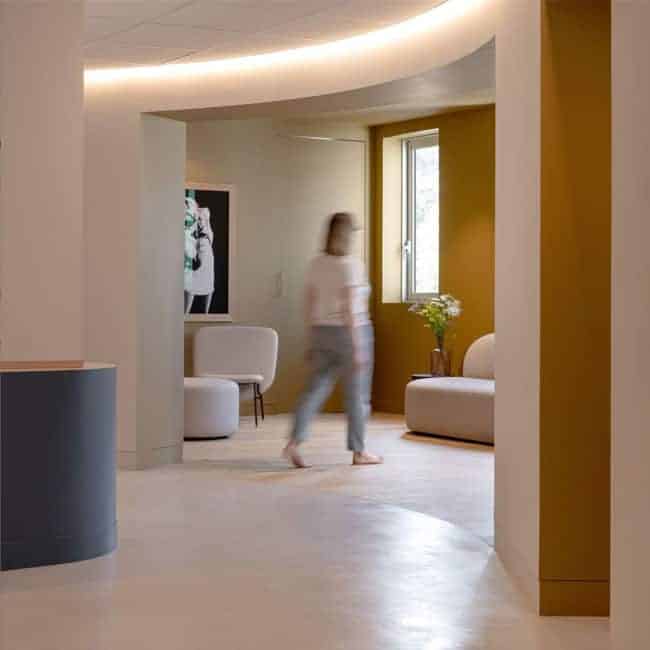 Micro concrete for floors, walls and furniture 
Micro concrete offers remarkable versatility in terms of application surfaces.
Marius Aurenti waxed concrete (Classic / Smooth finish mortar) can be applied to floors (screed with or without heating and slab) and walls in the following areas kitchens, bathrooms, walk-in showerson the work plans and basinson furniture and even in exterioron a terracea pool decketc.
Its ability to adapt to different surfaces makes it an ideal choice for creating a harmonious, modern aesthetic in a variety of spaces.
Micro concrete for interior floors
Marius Aurenti's Classic micro concrete (Smooth finish mortar) can be applied to screed floors (cement or anhydrite), with or without heating, on flagstones or in renovation projects over old tiles.
Micro concrete is particularly suitable for floors, thanks to its resistance to impact and abrasion, and its protection by a high-resistance varnish.
In just 2mm thick for seamless, crack-free surfaces (15-year warranty) for a warm, modern look. Created over 25 years ago, this concrete is the market benchmark, chosen by the biggest names in architecture.
A preliminary visit by an approved professional company will enable us to assess the quality of the substrate and give you a detailed price.
On wooden or damaged floors, consult the Marius Aurenti Vigorn slabs.
Micro concrete for walls
Visit wall concrete is an elegant solution for deep, contemporary wall decoration.
It is available in a smooth finish (classic version) and in a textured version for a rough concrete finish with the charm of its imperfections.
It's easy to apply thanks to its long open time, and gives a contemporary look to the interior of your space, offering a wide range of colors in a variety of shades. 71 colorsIt can be protected with a simple or reinforced varnish for public spaces.
Micro concrete for showers and bathrooms
Micro concrete is very often used for walk-in showers, inside the shower area and on bathroom floors and walls.
A waterproofing preparation is carried out in preparation, then the micro concrete is laid and protected with professional bathroom-specific varnishes.
A perfect solution for showers, offering a waterproof, moisture-resistant and easy-to-clean surface.
Its smooth, seamless appearance creates a modern, spa-like ambience in the bathroom, adding a touch of sophistication to your bathroom space. shower.
Waxed concrete for retail furniture and fittings
Whether on tables, counters or shelves, micro concrete provides a smooth, long-lasting finish, creating rooms of beauty and elegance. furniture unique and resistant in your interior decoration, catering, trade for displays, furniture, etc...
This can be done on site or in Marius Aurenti's workshops, which support brands and store networks with concrete furniture.
Micro concrete for worktops
Micro concrete for work plans creates a beautiful, continuous surface and specifically protects itself, becoming resistant to stains, moisture and daily wear and tear.
In addition to its durability, it offers a smooth, elegant surface that adds a contemporary touch to the kitchen or bathroom, while being easy to maintain.
With French manufacturer Marius Aurenti, you can simply order your concrete worktop in one of the 71 color chart colors. Tailor-made study possible.
Micro concrete for stairs
The application of micro concrete on stairs allows graphic expression, emphasizing the monobloc line of a staircase, or creating steps that are sometimes suspended. It can be installed on concrete staircases, on old tiles or with factory-created shapes installed on site.
Texture, finish, color - everything is specially designed for this work. Many of our creations can be seen on the Marius Aurenti social networks.
Micro concrete for terraces and pool decks
In these extremely demanding spaces terraces and pool decksMarius Aurenti responds with materials that are particularly UV-resistant.
Marius Aurenti also has the technical certificates to deal specifically with the anti-skid requirements of poolside applications.
A protective treatment is also applied and is perfectly suited to terraces.
Please note that outdoor realizations on terrace can only be installed on concrete slabs meeting the requirements of DTU 13.3, making it possible to build structures in both tropical and mountain environments.
Our professional teams will be happy to help you with these projects, which often extend indoor flooring outdoors in an infinite style that's so pleasant to walk barefoot on.
Technical data sheets (PDF version)
Technical data sheets (web version)
Waxed concrete installation videos
Preparing waxed concrete
Discover the different stages in the preparation of Marius Aurenti waxed concrete. 
Applying waxed concrete
Techniques and tips for applying Marius Aurenti waxed concrete.
Applying waxed concrete to the floor
Discover the different stages in applying Marius Aurenti waxed concrete to porous surfaces.
How does a micro concrete job go?
Step 1: Define :
Where? When? How? How much?
With your interior designer, or by yourself, define the areas where you're going to use Micro Concrete. At this stage of great opportunities are available, since you can make floors, walls, bathrooms, worktops, terraces, etc.... It's all a matter of design.
The exact address will also allow you to see the teams working nearby, the delivery method and the accessibility of the site...
The next step is to define when to build your site generally start consulting three to six months (ideally) ahead of time, to be sure of the availability of companies.
Finally, measure the surface area of structures square meters of wax concrete to be produced. This will help define the team needed for the job. How many parts? What surface area?
Contact Marius Aurenti using the contact form, which will put you in touch with the professional teams who will respond to your request.
Step 2: Making contact
A authorized distributora showroom Marius Aurenti or a approved installer will contact you to discuss your requirements, bringing to bear Marius Aurenti's 40 years of building experience.
Depending on the type of surface on which the micro concrete is to be applied, you can choose from the following materials various concretes, finishes and protections depending on the purpose of the premises: commercial, public, private, bathroom, kitchen...
At this stage, your project is defined and can be costed by a a qualified and trained craftsman or company.
Step 3: Put you in touch with a professional
The Marius Aurenti distributor or team will connect with a building professional, a craftsman or a qualified company. This professional will followed a training course Marius Aurenti specializes in micro concrete.
Carefully selected, these teams are trained and updated in their knowledge. warranties and insurance building professionals.
Technical and aesthetic mastery are there to make your project a reality!
These professionals will draw up the estimate for the job, including the cost of the products and their installation. It is sometimes possible to make a comparison between several companies, in order to compare rates and also to find the human relation that's right for you.
Step 4: Choose your style and color!
It's a fun part that requires take the time.
Rest assured, for more than 25 years, we have been making sure that all colors at the same price. With the laboratory, colorist and specific spectrophotometer Marius Aurenti also creates custom colors for certain projects. You can also create your color signature.
When you visit showrooms and distributors, you'll be able to see displays of materials. This will help you appreciate a color in real life, to touch the warm and pleasant material of micro concrete and define its texture (more or less smooth, depending on destination) and its appearance (plain and soft or with more or less accentuated moiré).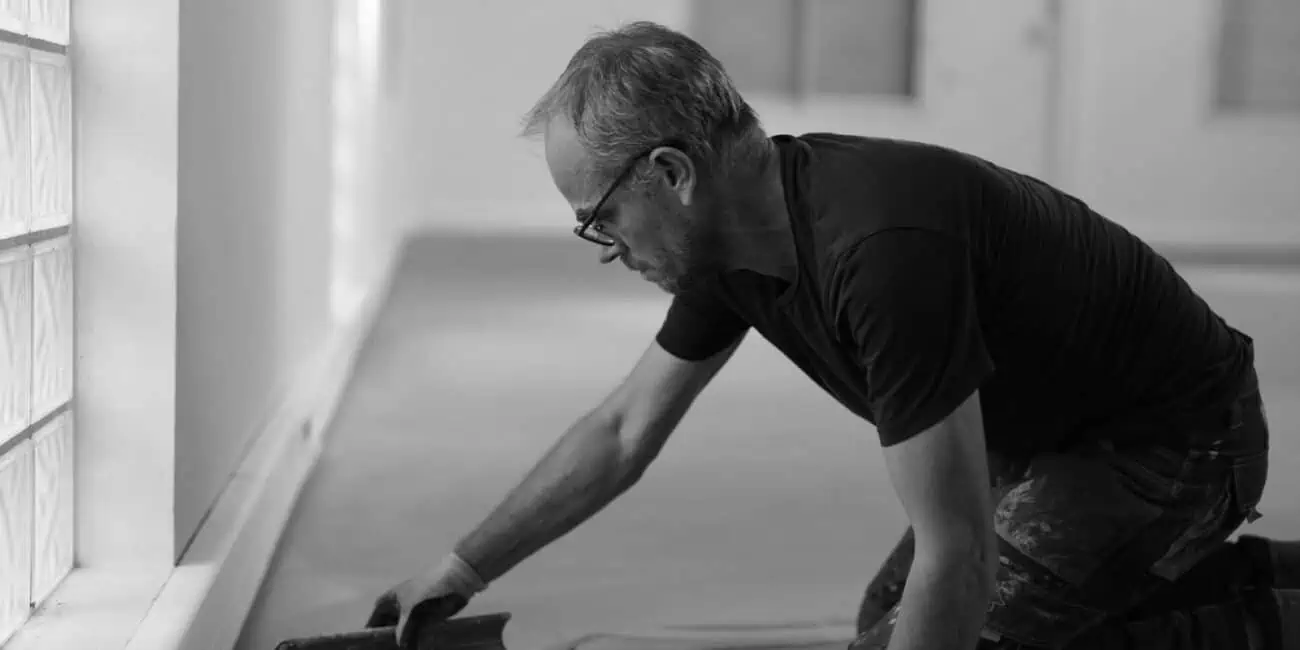 Step 5: On the job!
Generally, once you've validated the detailed quotation and general terms and conditions of sale, you'll be able to define the schedule with the craftsman, who blocks the project in his schedule and orders the materials needed for its completion.
He will also coordinate his work with the various players on the site, who generally include architects, builders, plasterers, painters, electricians and plumbers.
It will define its requirements and quality preparation of substrates for good realization of his work.
Generally, approved companies will ask you to make a deposit at this stage. On larger projects, an interim invoice will be issued and/or the balance paid on acceptance of the project. Throughout this process, the contractual relationship is between you and the company you have chosen.
The qualified company will handle the ordering and payment of materials directly with Marius Aurenti, a long-standing collaboration in most cases.
However, our sales advisors are on hand to answer general questions, guide you towards colors and decorative choices, and send you any technical documents you may need, which can be downloaded free of charge from the site.
Over the past 20 years, this process has led to the successful completion of a number of thousands of jobsites per year in some twenty countries.
Marius Aurenti supports companies with tools to help them get a good feel for the materials before they work on them, practical guides for exchanging ideas with other building professionals, and of course the site acceptance ceremony you hold with them at the end.
Step 6: It's time to enjoy and clean up from time to time!
You've done it! Fully appreciate the decorative style of Marius Aurenti micro concrete and the visual pleasure it brings, thanks to its continuous appearance on floor and wall surfaces.
The result is a feeling of infinite space, creating a particularly soothing and elegant ambience.
If there is the visual sensation, it is also at the level of touch that it makes the difference with other materials. the feeling is warm as it can letter with limestone or wood. Unlike tiles or resin, which will be cold, the touch under the foot or by hand is particularly gentle which makes the exchange with the space even more sensory.
Then, thanks to powder pigments exclusive Blush microgrinding technologya Marius Aurenti innovation for several years now, the colors are deep and soft. These pigments are particularly good at capturing light and returning it to the room.
Marius Aurenti's solidity and protection, reinforced by more than 40 years of mastery of surface treatments, will enable you to live simply in your own space, whether private or public.
For the maintenance of your Micro Concrete, a range of cleaning products adapted to each type of waxed concrete realization stemming from the company's professional experience is available. You can order them directly from the matériauthèque.
At reception, you'll be given a small guide to help you find out exactly how to maintain your surfaces.
This micro concrete is particularly sustainable and the first projects, which date back to the late 90s, are obviously still in service.
Depending on use, it may be necessary to apply two coats of protective varnish after ten years or so, but this can be done quickly (usually in a day).