Biography of Lionel Ballet, CEO of Matières Marius Aurenti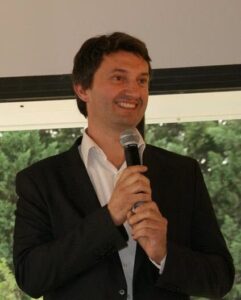 DG of Matières Marius Aurenti
In 2007, Lionel Ballet was appointed General Manager (GM) of thecompany Matières Marius Aurenti.
He developed the company founded 25 years earlier, creating new ranges of mineral materials, setting up a distribution network and a network of qualified craftsmen, and forging numerous partnerships in France and Europe.
The company innovates by creating ultra-fine Blush color technology and validating its products through performance tests with the CSTB.
In 2010-2011, he relocated Marius Aurenti to the Ecoparc Rovaltain, in a building built with the company's know-how, welcoming customers and employees in an aesthetic, friendly and eco-responsible space.
Training
After training at the University of Aix-Marseille, Lionel Ballet obtained a Master's degree in Business Administration and management in 1993, followed by a Master's degree in Business Administration and management at the University of Paris. Aix-Marseille Graduate School of Management (Institut d'Administration des Entreprises).
Professional experience
1993-1995: Lionel Ballet creates the Petit chevrier brand for the Swiss cheese dairy Bettex.
1995-1998: Lionel Ballet repositioned the Sibell potato chip brand, then in decline, and regained market share.
1997-1998: He launched a partnership between the Masterfood group and FIFA to supply food during the soccer World Cup; the company doubled its sales that year.
1999-2007: Marketing Director for the Maison Jaillance winegrowers' cooperative, developing and positioning wine brands.
2011-Present: Lionel Ballet founds and manages the restaurant La Parenthèse in Châteauneuf-sur-Isère
The adventure continues!
Values and commitments
A progressive employer (gender equality, young graduates, social reintegration...), Lionel Ballet defends meaningful marketing and eco-responsible business practices.
Social networking
Find Lionel Ballet on his LinkedIn profile.