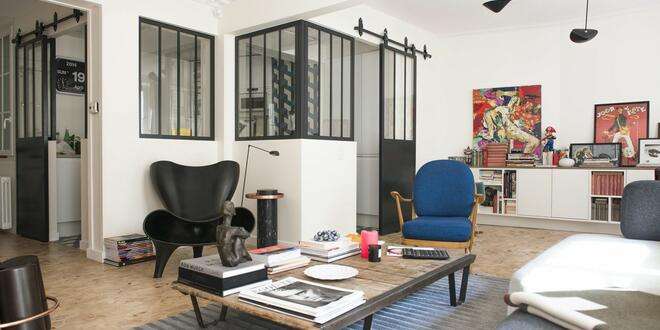 October 17, 2016
Coté Maison - October 2016
Combining two apartments into one
"Renovated by Cocottes Studio, this 82 m2 Paris apartment now boasts a beautiful, spacious and bright living area. Thanks to extensive structural work, which brought together two 41 m2 apartments to form one, the young couple were able to create a quality living space in Paris. Visit.
Light and space are the focal points of this renovation project, which is all about opening up perspectives. The space is built around a spacious living-dining room, to which are added a kitchen and bathroom, built like glass boxes. The eye can thus move freely from the heart of the apartment to the various rooms, without hindrance. A good solution from Cocottes Studio for visually enlarging the space. 
The renovation project in brief 
Surface area: 82 m2.  
Location: 10th arrondissement, Paris.  
Work budget: 140,000 euros excluding VAT.  
Duration of work: 4 months.  
Combine two apartments to create a bright, spacious living space
The apartment has retained the moldings, large windows and old fireplace that give it its Parisian charm. The white-painted walls preserve the apartment's Parisian identity, while amplifying the feeling of space. The wall on which the fireplace stands in the living room has been broken on its sides to create two large openings to the dining room. The beautiful back wall, in waxed concrete gray, draws the eye from the living room. An effect designed to visually unite the two rooms. 
The elegance of this new large living room is due, in large part, to its floor covered with refined Bout wood pavers. With its light color, this parquet floods the floor space and becomes the master material of the apartment, luminous and full of grace. 
Particular attention has been paid to the decoration of this large living room, with a mix of elegantly contemporary designer objects: Eames rocking chair, Marc Newson armchair, La Chance stool and shelves, Jieldé floor lamp...".
By Marion Gaillien, www.cotemaison.fr