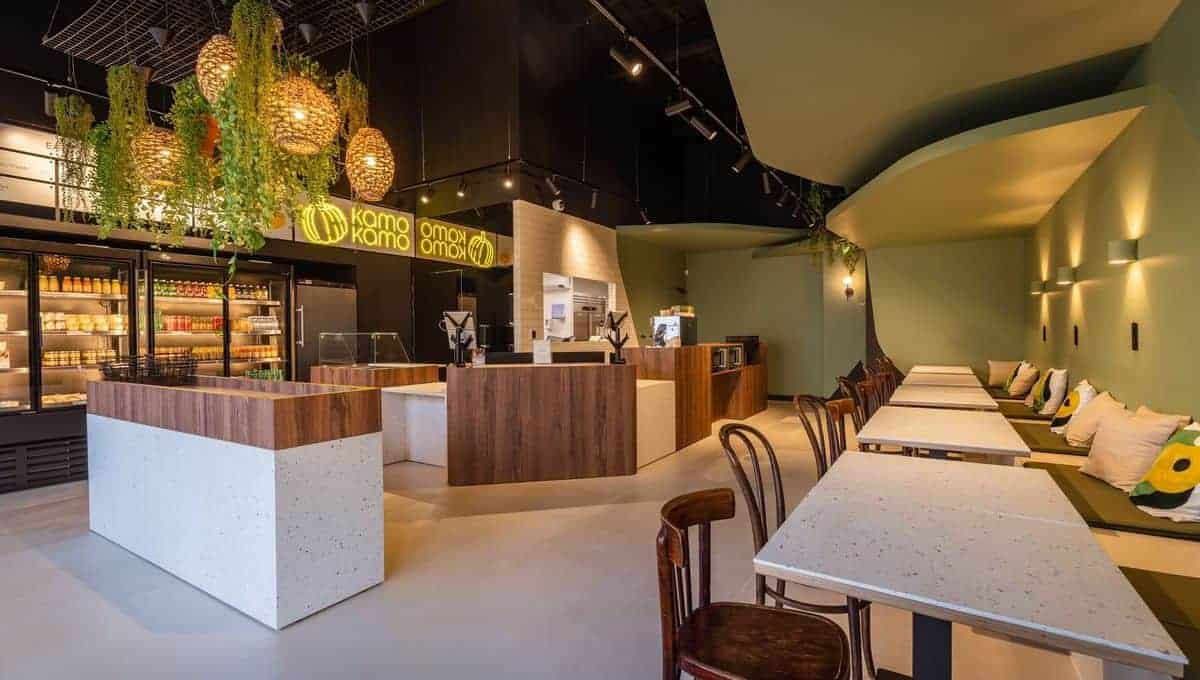 February 2, 2016
Waxed concrete restaurants and cafés
Waxed concrete, the choice of elegance and cleanliness for restaurants, cafés and bars
Thanks to its aesthetic and practical qualities, the waxed concrete is an ideal catering solution.
Opening or renovating a restaurant is as much about taste as it is about decoration. The place's appearance is an important first step.
We enter a restaurant to satisfy our taste buds, but not only that: it's also about spending a pleasant moment in an atmosphere that promotes well-being. These days, more attention is paid not only to the way we eat, but also to the setting in which we eat.
On a practical level, a restaurant floor must be stain-resistant and easy to wash, two major advantages of Marius Aurenti waxed concrete.
Whether used in bathrooms or washrooms, waxed concrete can be used on all surfaces: floors, walls, tables, counters, basins... Its hardness makes it extremely resistant to colored or greasy stains.
On furniture, it helps to create an original, yet functional look, and allows you to create color matches between different pieces of furniture, floors and walls.
On walls, it decorates with its subtle hues and play of light, while making cleaning easier thanks to its special finishing products and maintenance.
Marius Aurenti's waxed concrete helps create a distinctive look and combines with other materials - raw wood, metal, cement tiles - to give the room a remarkable allure.
In washrooms, on floors, walls, basins and vanity tops, waxed concrete makes cleaning easier while adding character to the space. It's a sure-fire decorative touch that dispenses with the superfluous.
Samples delivered straight to your door matériauthèque.
Restaurants and cafés in waxed concrete by Marius Aurenti
Momzi donuts store / Elevated Donuts - Paris
This donut store in Paris's 2nd arrondissement is aimed at gourmets and other food lovers.
It is adorned with taupe-colored waxed concrete with cloud effects on floors.
Address: 1 Rue Cherubini, 75002 Paris
Architects: David & Boulogne / Architecture & Decoration
Café Caractère - Paris
This coffee shop in Paris's 11th arrondissement serves all kinds of coffee, drinks and home-made pastries.
Beige and bluish Marius Aurenti waxed concrete on floors and walls creates a warm, luminous atmosphere.
Address: 2 Rue des Taillandiers, 75011 Paris
Restaurant Kamo Kamo - Mérignac
This fast-food restaurant, which bills itself as Fast Good, serves meals tailored to today's diverse tastes, including vegan and halal, with and without gluten and lactose.
Their vast on-site catering area features a smooth, homogeneous matte-white waxed concrete floor that's easy to maintain.
Address: 5 Rue Albert Einstein, 33700 Mérignac
Café Ineko - Paris
Now closed, this Parisian restaurant sold simple dishes with an emphasis on seasonal vegetables, in a sleek, chic space in Marius Aurenti white waxed concreteunder a large glass roof.
Address: 13 Rue des Gravilliers, 75003 Paris
Architect: François Champsaur
Restaurant La Parenthèse - Valence
This gourmet restaurant located in the Drôme region, close to the Valence TGV train station, offers 3 rooms that can be booked for corporate meals and meetings. Its local, committed cuisine will delight lovers of authenticity.
The site makes extensive use of waxed concreteanthracite with cloud effect on the walls, light on the floor and kitchen worktops, and beige on the front.
Address: 3 Rue Brillat Savarin, 26300 Châteauneuf-sur-Isère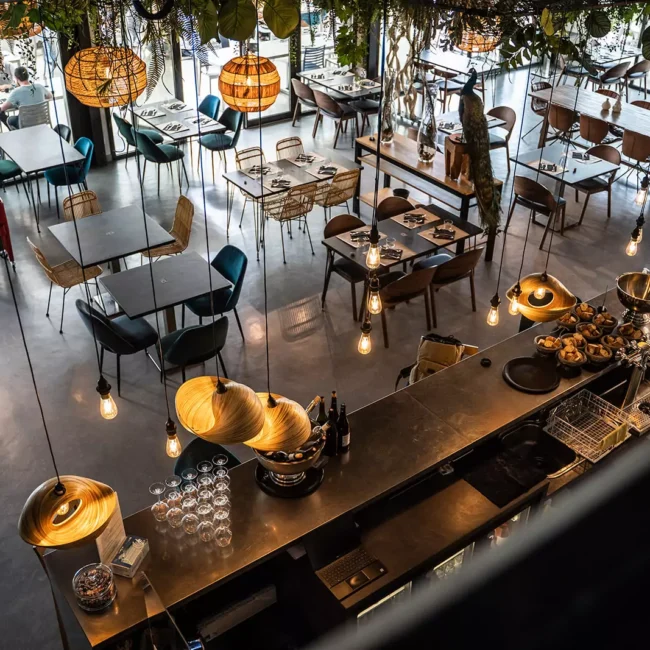 Restaurant Pitaya - Liège
Specializing in Thai cuisine, this Liège-based restaurant serves everything that delights the taste buds from the "land of smiles": kebabs, cucumber salads, Thai soups...
Sound waxed concrete floor The light-reflecting anthracite-gray satin finish gives it a classy, modern look.
Address: Rue des Dominicains 13, 4000 Liège, Belgium