February 2, 2016
Stores & stores in waxed concrete
Waxed concrete: when boutique rhymes with chic
Visit fashion boutiques and others decoration stores are one of waxed concrete Marius Aurenti.
Its ease of use and ability to cover old surfaces soils The healthy properties of the material mean short, clean construction times.
In trendy design boutiques, its contemporary look sets the tone, in line with the collections on display.
The qualities of concrete on floors and walls
On the ground, in high-traffic areas, the waxed concrete will develop a patina over time, but will not be damaged. Its mechanical strength enables it to retain its smooth appearance and unique texture despite repeated and sometimes careless use.
Visit waxes and MA's protective varnishes reinforce this resistance and enhance the material's long-lasting beauty. Marius Aurenti smooth fine waxed concrete is guaranteed for 15 years without cracking.
On the walls, waxed concrete creates smooth, clean surfaces in perfect visual continuity with floors, for a perfectly harmonious finish.
Color range
The wide range of colors of Marius Aurenti waxed concrete allows it to be adapted to all kinds of styles: 
white, beige or light grey, the great classics, neutral and sober
dark grey, anthracite, black, classy and elegant
earthy, terracotta, tile, chtonian and mediterranean colors
pastel colors, blue, green, pink, ochre, soft and warm
bright colors, red, orange, bright yellow, modern and bold
Samples delivered straight to your door matériauthèque.
Examples of boutiques and stores designed by Marius Aurenti
Boutique Parallèle shoe store
This SHOESHOP located in the 6th arrondissement of Paris has made its soil and its walls a uniform mineral setting in clear waxed concreteA bright, unobtrusive design that highlights its products by contrast.
Furniture structures, integrated into the floor and walls, in the same beige waxed concrete - shelves, shoe racks - give this boutique an astonishing visual continuity.
Address: 7 Rue de Sèvres, 75006 Paris
Architect: Studio Belem
Jacquemus x Galeries Lafayette shoe store
At Galeries Lafayette, the Jacquemus handbags, clothing and accessories brand is also focusing on almost white waxed concrete to enhance its luxurious creations.
Its display cases, remarkably staged with lighting effects, use the same colors in the same materials.
Address: 40 Boulevard Haussmann, 75009 Paris
Labo Store clothing store
In Valence, the Labo Store, store for men's and women's clothing, sneakers, jewelry, accessories and cosmeticspresents its products on a beautiful waxed concrete floor light grey or white, by Marius Aurenti.
Address: 17 Rue Saunière, 26000 Valence
Architect: Katell / Guivarch agency
Maison Standards clothing store
Standard house, women's and men's fashion boutiquehas opted for an elegant and subtle beige waxed concrete rubbed with a sponge to give it a beautiful cloudy effect.
Footpatrol Paris shoe and clothing store
This great shoe and clothing store Parisian specialist in sportswear (sneakers, tracksuits, caps and other accessories), complements its old stone walls with beige or brown waxed concreteA contrast of materials to great effect!
Address: 45 Rue du Temple, 75004 Paris
Iro clothing boutique
Visit Iro clothing boutique has chosen a beige waxed concrete floor which, with the lighting, takes on a warm, ochre tone.
Some elements furnishingsThe same color is used for benches and displays.
Gallery Library of Arts (Lo/A) / creative studio
This Parisian gallery-turned-creative-studio has opted for a sure bet: the best of the best. light, almost white concreteA brightly lit room featuring light wood furnishings.
Address: 17 rue Notre-Dame-de-Nazareth, 75003 Paris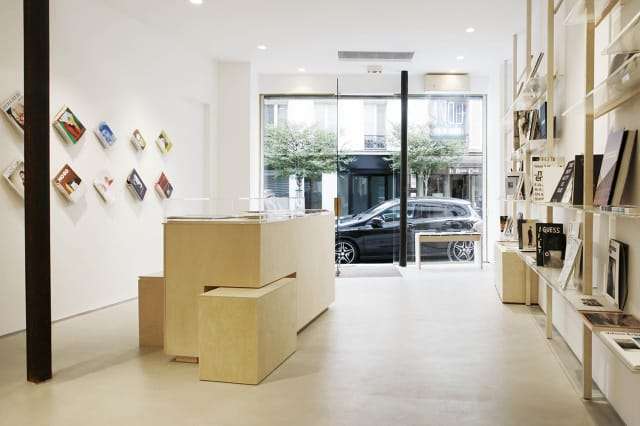 Orange Cube fashion boutique
This audacious australian fashion accessories boutique cheerfully mixes bright, tangy colors - yellow, red, orange - with classic colored marble, and white waxed concrete which serves as a showcase.
Address: 287 Lonsdale Street, Melbourne VIC 3000
Jimmy Choo shoe store
This classy store for shoes, handbags, accessories and perfumesBritish fashion star, takes the side of a brown waxed concrete patinated soilto walls and on furniturewith its products placed in niches lit against a light background, in a spectacular staging.