Contact a Marius Aurenti consultant free of charge if you have any questions about your construction or renovation project.
Marius Aurenti - Manufacturer of waxed concrete, lime, stain, varnish...
Range of products and materials
Millimetric waxed concrete
Its extreme thinness (2mm) and resistance (44 MPA) make it ideal for both new-build and renovation projects.
Visit waxed concrete millimetre is a warm, timeless material that's very popular with decorators.
Available in 71 mineral colors (powder pigmentation in the mass).
Use: interior and exterior floors, walls, worktops, showersobjects.
Light or strong shades
Smooth to non-slip surface, depending on destination
Also available in terraceultra-thin and fluid, depending on use
Substrates: Slab, screed (with or without underfloor heating), old tiles, chipboard, mdf, plasterboard, etc.
No special expansion joints
Preparation according to premises and substrates: waterproofing, epoxy resin and reinforcement, porous primer, etc.
High-performance matte, silk matte or gloss finish, depending on location. 250g/m2 for exteriors and 300g for interiors and wet rooms
Consumption only 4kg/m2 (2mm) on floors, bathrooms, ... and 2.5kg/m2 (1mm) on dry walls.
15-year crack-free warranty
Performance tests by technical laboratories such as LNE and CSTB.
25 years of experience, hundreds of craftsmen and thousands of jobsites
Made and guaranteed in France by Marius Aurenti
Classic or Texture wall concrete
Visit wall concrete is a cement-based decorative coating for interiors, with all its matt, rough appearance.
Fine and smooth in the Classic version, or grained and irregular in the Texture version, it is easy to install and can be protected, making it suitable for all dry rooms in the home, stores and public spaces.
Intended use: Interior wall
Available in 71 mineral colors
Substrates: Gypsum plasterboard, fibre-gypsum board, old paint, glass cloth
Preparation with Wall Primer 200g/m2
Raw finish or silky matte varnish
Consumption: 1kg/m2 for Béton Mural Classic in two coats and 1.6kg/m2 for Béton Mural Texture in a single coat.
Made in France by Marius Aurenti
Lime whitewash, plaster and Marmorino
In the purest tradition of lime MA's has developed a lime paste for mat rendering, limewash and interior whitewash.
A Marmorino plaster filled with fine marble gives a deep, matte appearance to interiors and exteriors.
Use: Interior and exterior walls (Marmorino only)
Available in 56 mineral colors
Surfaces: plasterboard, old paint, ecological materials, exterior walls with plaster bodies
Specific lime wall primer
Rough finish to allow work to breathe or wax protection
Consumption: 300g to 700g/m2 paste and 500g/m2 to 1Kg/m2 for Marmorino
Matte, cloudy or silky appearance, pure and deep
 
Plant-based paint & lacquer
Origine Végétale paint is rich in renewable and biosourced raw materials.
Its use guarantees a healthy environment and contributes to greener living.
Easy to apply, it has excellent opacifying power. It is microporous and washable.
Intended use: interior wall
Available in IRIS 210 Colours and other custom colors
Plant-based range: primers & matte paints, matte, velvet matte & satin lacquers
Substrates: plasterboard, concrete, old paint, ...
Preparation with plant-based primer 125ml/m2
Consumption: paint 200 ml/m2 - lacquer 150 ml/m2
Made in France by Marius Aurenti
Vigorn concrete slab
Manufactured in MA's workshops in France, Vigorn is a ready-to-install slab in 14mm sheets.
It revolutionizes the application of decorative waxed concrete, thanks to its ease and speed of use.
Its large format gives a visual unity to the floor in the pure spirit of concrete paving, with the depth, strength and warmth of Marius Aurenti waxed concretes.
Over 5000m² already completed
Slabs lightened at the core by an alloy of mortar and plant fibers
Use: Interior walls and floors in dry rooms
Only 14mm thick and 18kg/m2
Available in 71 mineral colors
Light or strong shades
Matte, satin or gloss finish
High flexibility, simplified handling, special packaging and logistics
Substrates: concrete floors, poured or dry screeds, levelling compounds, tiles, wooden floors, etc. by gluing, 2mm MA's joints
Plunge-cut diamond saw with rail
Quick set-up and commissioning (3 days)
Large floor formats: 320 x 120cm, 240x120cm, 120×120 cm, thickness 14 mm
Worktop sizes: 300 x 120 cm and 244 x 62.5 cm, 24 mm thick, custom-made on request
Manufactured in France by Marius Aurenti
Concreo & Conclad concrete wall panels
These full-mass panels take on the appearance of rough-cast concrete. They are lightweight and easy to install, for an ultra-contemporary concrete look in homes or stores.
Delivered in a range of ready-to-install formats, they can be quickly installed without any special training. Concrete is raw and new, with the look of contemporary formwork in a warm light gray.
Intended use: Interior walls in residential and commercial premises, hotel, restaurant
Substrates: Plasterboard, painted walls or sound old substrates
Warm, raw, light gray concrete color
Roughcast concrete veil appearance with small asperities and keyholes (cabochon)
Simple edge-to-edge glue-down installation with chamfers, ready for immediate use
Cutting with single plunge saw, hole saw ...
Various sizes: 60x60cm, 60×120 cm, 120×240 cm / thickness 11.5mm / 14kg/m².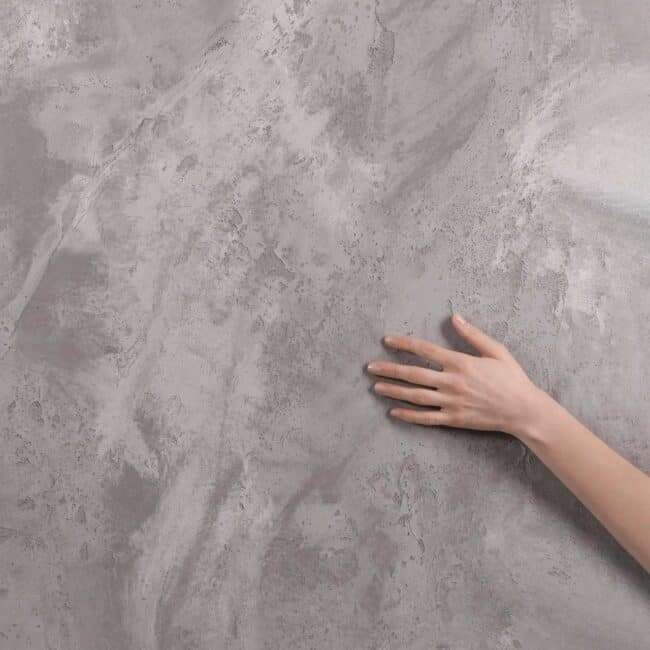 Decorative concrete panels Private Collection
Between decoration and art, working with renowned artists on materials in the studio pushes back the frontiers of creation and expression.
These exclusive panels make walls expressive and strong in identity. This work is designed for high-end interiors, boutiques, brands and hotels.
Muriel Malchus Collection
Caroline Perrin Collection
Large-format decorative wall panels
Substrates, formats and finishes are available on request.
Specific lead times and logistics
Manufactured in France by Marius Aurenti
Carqis concrete tiles
This concrete tile plunges you into the Mediterranean world of Marius Aurenti.
Carqis are hand-cast in France, unique and dotted with a thousand tiny holes, magnificent small formats.
Concrete and mineral pigmentation in the mass
Intended for: interior walls
Available in 20 colors
Format: 15 x 2.4 x 1cm and 15 x 5 x 1cm / Sales unit: 0.45 m2 box
Raw finish or matte or high-gloss protection
Installation with 2mm joints, socket pocket or edge to edge
Manufactured in France by Marius Aurenti
Malto concrete panels
Originally, banches were made from wooden planks used as formwork for concrete. This ancient technique has left behind some superb walls.
Casting, bubbles, irregularities - this is what Malto now revisits with ready-to-install planks. Malto is composed of a fiber-reinforced concrete and a protective varnish.
Malto 11: 110 x 11 x 1.4 cm / carton of 0.85 m2 (7 slats)
Malto 8: 110 x 8 x 1.4 cm / carton of 0.62 m2 (7 slats)
Weight: 18kg/m².
Available in 4 classic concrete colors (others on request)
Surfaces: plasterboard, concrete, tiles, paint...
Protective varnish and high-performance varnish options
Glue-down installation on dry interior walls, edge to edge
Manufactured in France by Marius Aurenti
The company
Marius Aurenti
Located in the Drôme, in the heart of silica quarries and white cement veins, Marius Aurenti selects and assembles these noble materials and pigments to create deep, refined coatings.
Micro concretelime, plant-based paintDecorative panels become the new setting for harmonious, open and environmentally-friendly living.
With training centers for professionals, and a network of qualified craftsmen, our teams have been passionately supporting sensitive architecture in over 20 countries for 40 years.
Iris, the color chart
From Marius Aurenti's Mediterranean origins come the mineral colors of the earth, the deep blues of the sea, the greens grayed by the scorching sun and names that are so many journeys into this culture.
These intentions have become the 210 shades of the IRIS color chart, designed in collaboration with specialists. With the utmost precision, the colorists develop these subtle shades and control each color bath with the greatest possible accuracy, right from the first liter of paint or large series of decorative concrete.
Contact us
From design to technical support and implementation, Marius Aurenti's advisors and trainers can answer your questions and help you find qualified craftsmen and the right materials to make your projects a reality.
Find a craftsman
Whether in France or abroad, Marius Aurenti will recommend a team from our network of expert craftsmen.
With over 30 years of training and the unique network of Qualified Craftsmen since 2007, Marius Aurenti leads and supports a large family of expert professionals who are passionate about their craft.
Techniques and knowledge at the service of a precise, simple and minimalist aesthetic, with the finesse of gesture and beautiful materials.
Showrooms & distributors
Marius Aurenti materials are available in exclusive showrooms and from authorized distributors.
Assistance with technical choices of supports and uses, textures and colors.
Find out about locations, times and make an appointment.
Training
In 1992, we set up a government-approved training center to support the profession in its specialty products.
In more than 25 years, thousands of trainees have come to learn, discover or deepen their knowledge, and today they share our passion for mineral materials.
These courses are open to professionals, from initiation to integration into the network of qualified Marius Aurenti craftsmen.
Kitchen
Bohemian chic, by the beach or in the countryside, Marius Aurenti waxed concrete brings charm and character to the kitchen.
It can be used to create frames, credenzas and worktops in a single piece, and combines with wood, textiles and other materials to create a warm, unique world.
Room
To create a harmonious, refined bedroom, the choice of materials is essential.
Marius Aurenti materials, such as waxed concrete, lime, wall concrete and plant-based paint, offer elegant, long-lasting options for covering walls and floors.
Salon
At the heart of the home, the Marius Aurenti living room is adorned with lively materials: waxed concrete, lime and plaster.
With Marius Aurenti, make your living room design and trendy: living room floors in waxed concrete, wall concrete, waxed concrete staircase, and furniture such as concrete tables waxed.
Stores
In the boutiques, its very contemporary look sets the tone, in line with the collections on display.
On floors in high-traffic areas, waxed concrete will develop a patina over time but will not be damaged. 
Hotels and B&Bs
Matières Marius Aurenti has invested in many prestigious hotels and guest rooms. Thanks to its resistance and ease of maintenance, waxed concrete is an ideal finishing material for these high-traffic areas.
Aesthetically, it's a material that allows all kinds of decorative styles and color fantasies.
Restaurants and cafés
Opening or renovating a restaurant is as much about taste as it is about decoration. The place's appearance is an important first step.
We enter a restaurant to satisfy our taste buds, but not only that: it's also about spending a pleasant moment in an atmosphere that promotes well-being.
They put their trust in Marius Aurenti
Waxed concrete is guaranteed for 15 years without cracking.
This warranty covers intrinsic cracks in the material. 
Exclusive guarantee from qualified craftsmen Experts
An accredited training organization since 1992, Marius Aurenti has welcomed several thousand trainees and helped create and develop numerous companies in the world of mineral decoration.
Developed over the last few years, Blush technology offers a unique rendering and unrivalled color precision to concrete: the material is ultra-fine, its application falicitated and the result irreproachable.
Press
Marius Aurenti has been honored by most of the major print and web media on the theme of home and interior design. Thanks to all of them!
Certification and classifications
Marius Aurenti products are subject to quality tests and technical classifications.
Marius Aurenti products are tested by the Centre Scientifique et Technique du Bâtiment for flexural strength, compression, punching, hardness, slipperiness, permeability, fire resistance, stain resistance, etc.
Test report :
CSTB n°RA12-0208
CSTB n°R2EM-11-26022578
CSTB n°R2EM-SIST-14-26047471
Marius Aurenti products are also tested by the Laboratoire National de Métrologie et d'Essais.
LNE n° CX 1600936
All Marius Aurenti materials are classified A+ in terms of indoor air emissions. This indicates that the products emit little or no volatile pollutants into the air inside a room, guaranteeing healthy air.
The CE mark indicates that Marius Aurenti products have been tested and approved.
The Fabrique Marius Aurenti, located in an eco-park, complies with High Environmental Quality specifications. This guarantees genuine energy efficiency and respect for the environment (waste treatment, water management, air treatment, etc.).
Founded in La Ciotat (13) in 1982, Marius Aurenti is now based in the Drôme at the Ecoparc de Rovaltain- Gare de Valence TGV (26).
Ecological commitment
More than just a necessity, a matter of course
"The first law of ecology is that the elements are all related to each other."
Barry Commoner
As a corporate sponsor, Marius Aurenti is taking part in the MERCI project run by theNGO Planète Urgence.
This project helps to restore the mangrove, the natural habitat of the Java rhinoceros, in order to protect it. Marius Aurenti is contributing to the protection of this endangered species with 11,000 seedlings financed this year.
Marius Aurenti Waxed Concrete, voted Product of the Year 2016 by Architectural Record, the American benchmark for prescribing by leading architects.
Products are selected for their innovation, utility and aesthetic appeal.
Award of excellence at the Salon International du Design de Montréal. Highlights: low thickness, light weight, perfect suitability for renovation, high water-resistance and color.
The Australian Interior Design Award went to a waxed concrete renovation of the Milligram store in Melbourne.
In 2023, at the Maison&Objet show in Paris, Marius Aurenti was awarded the Coup de Cœur prize.
Your email will not be shared with third parties