Who we are
40 years of French history
Founded in 1982, Marius Aurenti designs refined, technical materials that respect the environment and are constantly evolving, thanks to the work of skilled craftsmen and leading architects.
The company's strengths: an international network of distributors and skilled craftsmen, a commitment to the environment, high-tech materials and the attention to detail that is the hallmark of fine craftsmanship.
1982: Founding of Matières Marius Aurenti
The company has been active in the public building sector for 40 years.
Matières Marius Aurenti was founded in 1982 in downtown La Ciotatin the Bouches-du-Rhônein Provenceby Marius Aurenti, before moving to the industrial zone for larger premises.
Initially specializing in surface cleaning, the company went on to develop innovative protection for stone and concrete against graffiti and wear and tear, and makes public works in France and abroad: metro stations, high schools, hotels bridges, etc.
Thanks to this technical expertise that it has positioned itself at the forefront of the industry. in concrete treatment and protection.
1992: Marius Aurenti becomes a certified training organization
In 1992, with the creation of his training centerMarius Aurenti becomes a certified training organizationis one of the leading private training organizations in contemporary decorating, enabling professionals to create the best possible works. It trains individuals and professionals in the practical and technical application of materials.
Today, the company pursues its mission of professional training and exchanges with architects and private individuals, with the aim of raising awareness of the materials he prefers to work with: Lecavalier waxed concrete and the lime.
Find out more: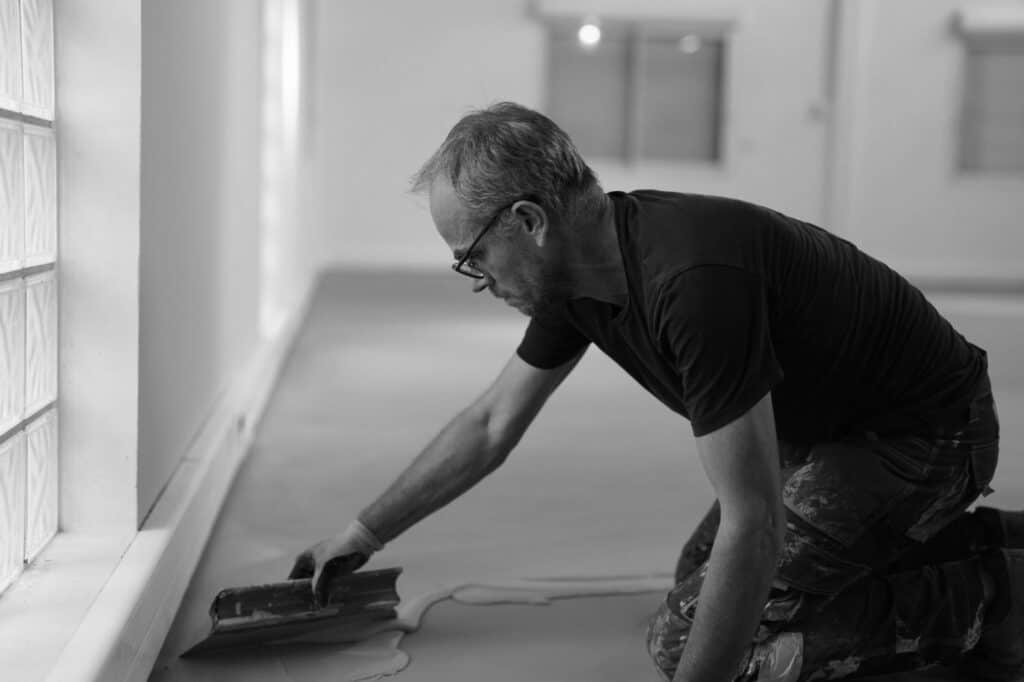 Late 1990s: Marius Aurenti invents waxed concrete
For 25 years, this independent French company has pursued its ongoing mission of striving for quality and innovation.
Driven by architects and a desire to break new decorating ground, Marius Aurenti developed the first waxed concrete millimetric in the late 90s. A technique that revolutionized the world of decoration !
Since then, Matières Marius Aurenti has continued to play a key role in the company's development. pioneer and creates and perfects the finest decorative materials : waxed concretes, decorative coatings and exceptional paints, all adapted to in every room of the house, indoors or out. for an incomparable finish.
2007-2011: the company moves to the Drôme region
In 2007, the company moved from Provence to Drôme and settled first in Crest then to Châteauneuf-sur-Isèrein theRovaltain ecoparknear the Valence TGV stationunder the leadership of its new CEO Lionel Ballet.
The construction of new premises lasts 4 years and complies with demanding environmental standards (energy efficiency, no water or air emissions...)
This location brings the company closer to its fundamentals: the materialsall available in neighboring departments. It also makes it possible tosendThe A7 freeway to the south and the A43 to Switzerland and Grenoble, for example, enable us to deliver products to the whole of France from a central location.
On this site, as well as in the town of Romans-sur-Isère, Marius Aurenti manufactures waxed concrete, mainly using local products. made in France which has given it a leading market position and earned it a sales presence in over 20 countries.
Thanks to its technical divisionToday, Marius Aurenti manages prescription projects, from recommendations and follow-up with craftsmen, right through to site handover, with the assurance of a high quality service. ten-year warranty. Matières Marius Aurenti offers a 15-year guarantee against cracking on its waxed concretes.
Rovaltain TGV Nord, Ecoparc du 45ème parallèle,
3 rue Brillat Savarin,
26300 Châteauneuf-sur-Isère
A human, open and positive adventure
At the heart of the company, human values are fundamental honesty, openness, gender equality and customer focus.
For each of his creations, Marius Aurenti is always committed to finding the right solutions for the right destinationsin strict compliance with building regulations, and with complete transparency. The objective is not the quantity of product sold but the quality and durability of the work.