8 April 2015
The world of waxed concrete in the kitchen by Marius Aurenti
An innovation of recent decades waxed concrete has quickly become a household name, cherished by architects and interior decorators for its modern, minimalist look and heatits wealth of colors and malleability.
Bohemian chic, by the beach or in the countryside, Ma's waxed concrete brings charm and character to the kitchen. It can be used to create a one-piece builtthe credenzas and work plansand combines with wood, textiles and other materials to create a warm and unique universe.
With its minimalist, functional design, the waxed concrete enhances graphic lines while adding a deep, visual and sensual warmth.
In the kitchenwaxed concrete can do it all:
Advantages of waxed concrete in the kitchen
Waterproof
Originally a porous material, waxed concrete can be made waterproof and therefore resistant to water and humidity, making it an ideal option for high-water-traffic areas such as bathrooms and kitchens.
Durable
What's more, waxed concrete is durable, able to withstand daily wear and light impact, making it an appropriate choice for high-traffic areas. Isn't that the case for any self-respecting kitchen?
Clean and easy to maintain
What's more, it's clean and easy to maintainIt requires little effort to clean and maintain.
Discover the Marius Aurenti range of waxed concrete cleaning products.
Warm
Finally, waxed concrete offers a warm atmosphere thanks to its smooth texture and contemporary look, adding a modern, elegant touch to any space.
Waxed concrete kitchen floor
A waxed concrete kitchen floor offers many advantages qualities that make it the cladding of choice for construction and renovation projects.
Material resistantWaxed concrete can withstand intense kitchen traffic without deteriorating. Protected by a wood stain and a varnish, it withstands shocks, scratches and wear.
Rendering waterproof Waterproof and stain-resistant thanks to water- and oil-repellent treatments, waxed concrete kitchen floors are ideal for this damp, messy room, where water, liquids and food products are frequently spilled.
AestheticsWaxed concrete offers a contemporary, elegant and industrial look that adds a modern touch to any kitchen. Available in a wide range of colors, finishes and patterns, this material can be used to create a customized floor that matches the style of your home. kitchen decorating style Scandinavian, Japandi, industrial loft, cottage, etc.
VersatileWaxed concrete can be applied to a variety of surfaces, such as concrete, tiles, etc., making it suitable for a variety of applications. kitchen floor coverings.
Unlike some other floor coverings, waxed concrete is hypoallergenic It does not support the growth of molds, fungi, bacteria or other allergens, making it a healthy option for people sensitive to allergies or respiratory problems.
A well-designed waxed concrete kitchen floor proves its worth easy to clean and maintain.
All in all, waxed concrete kitchen floors are an attractive choice for those looking for a modern, functional and pleasing floor covering for their kitchen.
However, it is important that waxed concrete be installed by an experienced professional to ensure proper application and optimum long-term performance.
Marius Aurenti concrete flooring offers
The Marius Aurenti company offers a product range for a waxed concrete floor in your kitchen.
For each product, receive samples directly at home thanks to our material library.
Millimetric waxed concrete
Visit millimetric waxed concrete can be used to cover pre-existing soil, by tiles or in concrete (but not parquet flooring, as the wood works too hard and would crack).
Protected by varnish high performance, it is easy to maintain and can be cleaned with conventional detergents.
Marius Aurenti millimetric waxed concrete is available in 71 mineral shades.
Vigorn concrete slabs
Visit Vigorn concrete slabs are ready-to-install slabs: they avoid the mess and delays of a fresh concrete site.
Decorative floor styles
With its rich variety of shades and visual renderingswaxed concrete lends itself to all kinds of decorative styles.
Here are just a few examples:
Eclectic style
With waxed concrete, you can create a stylish kitchen floor. eclecticwith a unique blend of colorsof motifs and textures.
Opt for waxed concrete colors bold and contrastingmix matt and high-gloss finishes to create a textured and dynamics. Play with geometric, floral or organic patterns to add a touch of eccentricity to your kitchen floor.
Minimalist style
Waxed concrete can also be used to create a minimalist-style kitchen floorin an aesthetic purified and modern.
Prefer neutral colors, such as whitethe gray or the blackand use matte finishes to create a smooth.
This style of flooring is a perfect match for designer kitchen cabinets, clean-lined furnishings and simple accessories.
Glamorous style
Waxed concrete is also ideal for creating a glamorous and classy kitchen floorwith a sophisticated, elegant look.
In this case, choose waxed concrete colors as the blackthe dark redthe metallic gray or the whiteand use finishes shiny or satin-finish to create a luxury and glamour.
Combine it with high-end kitchen cabinets, crystal handles, elegant lighting and sophisticated decorative elements such as mirrors or high-gloss materials to create a kitchen with a glamorous, refined ambience.
Kitchen wall in waxed concrete
On a kitchen wallwaxed concrete offers a modern, industrial and minimalist that gives your kitchen a unique style.
Matières Marius Aurenti wall concrete offers
Marius Aurenti offers several options for creating a waxed concrete wall in your kitchen.
Wall-mounted concrete
Visit wall concrete is a millimetric concrete that can be applied in a thin layer, 1 to 2 mm thick, to various types of surface - it is possible to use laying over existing tileswith professional know-how.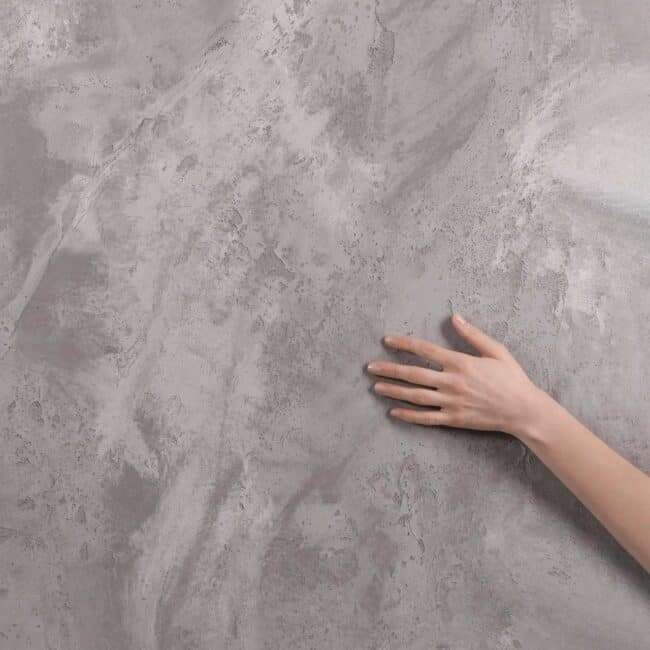 Wall panels
Marius Aurenti's decorative concrete panels are easy to install, with no drying time, and come in two main shapes:
Visit Concreo and Conclad decorative wall panels (3 formats) :
600 x 600 mm
600 x 1200 mm
1200 x 2400 mm
Decorative wall panels from the Private Collection :
Decorative wall styles
Available in a wide range of colorof finishes (untreated, glazed, varnished, matte, gloss, satin, etc.) and patterns (smooth, spatulated, floated, combed, organic...)waxed concrete multiplies the possibilities for personalization to create decorative kitchen walls to suit both your taste and your budget. interior design stylefor example:
Industrial style
With its gross and minimalistwaxed concrete is perfect for creating a style industrial in the kitchen.
Shades of gray of waxed concrete, for example, will harmonize with stainless steel elements, industrial lighting fixtures, metal or steel cabinets, and accessories in cast iron or raw steel to create a contemporary, urban look.
Rustic style
Although often associated with a style contemporarywaxed concrete can also be used to create a look rustic and authentic in the kitchen, as long as you choose colors more hotlike the tones of earth or shades of beigeand textured finishes or patinated.
Combined with raw wood cabinets, wrought-iron decorative elements and vintage accessories, a waxed concrete wall can create a warm, friendly atmosphere in the kitchen.
Scandinavian style
The style Scandinavianwith its design minimalist, clean and functionalcan be complemented by a kitchen wall in polished concrete with light colorsto matte finishes and simple lines, it is possible to achieve a look Nordic and contemporary.
In a kitchen furnished with light wood cabinets, stainless steel kitchen accessories and minimalist decorative elements, waxed concrete can create a modern, timeless Scandinavian look.
Waxed concrete in an outdoor kitchen
Waxed concrete can be adapted to create a outdoor kitchen (or a summer cuisine) durable and aesthetically appealing.
Marius Aurenti waxed concrete is resistant to bad weatherto UVvariations in temperature and humidity.
Waxed concrete kitchen worktop
A concrete worktop waxed is generally made to measure to suit your workspace kitchen specific.
It is important to call on a experienced professional for the installation to ensure high-quality finish and a durability in the long term.
It is possible to build a worktop from the same material. color that the concrete of the soil and wallsgiving the piece a remarkable aesthetic unity.
Laying waxed concrete over tiles
It is possible to install micro concrete over existing tiles. (in earthenware or other), provided you take a few precautions.
The tiles or in very good conditionor that tiles in poor condition are preliminarily filed and replaced or their location filled in.
The next step is to sand and prepare the substrate to ensure hook sustainable.